Flip Flop Flapjack Frolic
| | |
| --- | --- |
| Date | December 5, 2004 |
| Hosts | DBLS DOGS (Larry and Brenda Isherwood, Dave Snope and Susan Nicolich) |
| Where | Califon Island State Park; Hunterdon County |
| Who (else) | Marji Brandriss and Dave Kristol, Claire Hamanaka and Walt Willard, Cheryl Prudhomme and Mark Cook, Linda and George Wells |
[Team Wells report]
Last Sunday, the DBLS DOGS--Teams Isherwood and Snope/Nicolich led Teams Wells, Willard/Hanamaka, Cook/Prudhomme, and Kristol/Brandriss on their 23 mile Flip Flop Flapjack Frolic after we all arrived at the park in Califon (or should we call it "Cali-fun") to work the route. The first thing we noted was that Philhower/Frog Hollow Road had patches of ICE! Yikes, that took some fancy bike handling and fortunately nobody went down. The two major climbs (Frog Hollow and Hacklebarney Roads) really tested our legs as well as our ability to shift into granny-gear. While neither of these climbs are long, they are really steep. As captain, I have this nightmare of "what would happen if..." as we climb these grades. That keeps me pedaling hard just to get over the top.
Teams Willard/Hamanaka and Cook/Prudhomme were busy with other projects and unable to participate in the post-ride festivities at the local pizza shop. It felt good to be inside where it was warmer, enjoying our lunches and spend time just talking with our fellow tandemists. Later that same evening, Teams Kristol/Brandriss, Snope/Nicolich, and Wells got together again, this time at the West Orange JCC Chamber Music Concert that Dave Kristol runs for the Center.
[Dave Kristol]
We had a nice break at the Hacklebarney Cider Mill. Team Wells missed a turn but arrived just as we planned to mount a search party. Meanwhile we had fun playing "fetch" with a dog (a real dog). Also, DOGS members Paul and Jane Kimmel showed up. They were participating in a Central Jersey Bike Club ride!
Preliminaries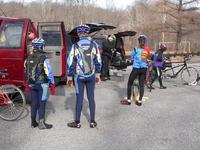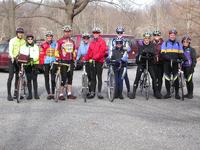 At the Cider Mill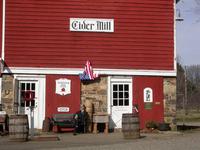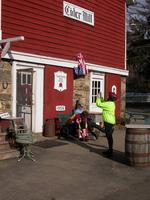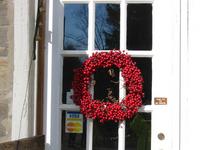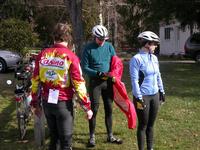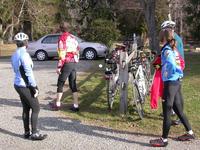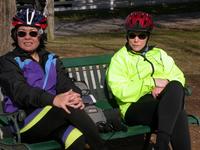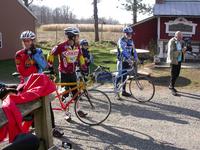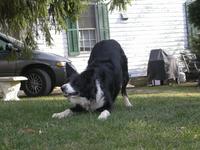 Pizza!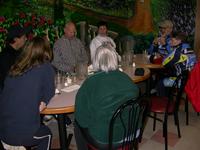 ---
---
Generated automagically on Sun Dec 12 22:48:37 US/Eastern 2004 from 041205.pho dated Sun Dec 12 22:48:36 US/Eastern 2004 by /home/dmk/perl/pho.pl, @(#)pho.pl 1.24.
Copyright © 2004, David M. Kristol (text, photos); Marjorie Brandriss (photos)