DOGS 2004 Solstice Party
| | |
| --- | --- |
| Date | December 4, 2004 |
| Hosts | Pam and Alan Bergstrom |
| Where | Bergstrom house, Frenchtown |
| Who (else) | Judy Allison and Malcolm Boyd, Marji Brandriss and Dave Kristol, Barbara and Tracy Cate, Julie and Stu Conway, Debby and Alan Cudworth, Claire Hamanaka and Walt Willard, Brenda and Larry Isherwood, Cheryl Prudhomme and Mark Cook, Susan Nicolich and Dave Snope, Ann Smith and Gisela Witz, Pam and Rich Toft, Linda and George Wells |
[Team Wells report]
Team Wells didn't make the pre-party ride, but we did hear that the route was excellent and everyone had fun. In fact, some teams had so much fun that they did the 16 mile loop twice. As usual there was a fantastic assortment of foods at the party that could easily increase the weight of all the tandem teams in the club. But, it is now winter, we're all fit from all our tandem riding this summer and we can handle it... I (George) think we can handle it--just don't get on the scale!
One of the big hits of the party was Barbara Cate and the sparkly rings she gave to the other stokers. While I was talking "DOGS Business" with Mark Cook, there was even a "light show" of rings waving in the air as the day got darker and the lights were turned off in the living room.
[Dave Kristol]
The "business meeting" was short. (We know where our priorities are.) Everyone who hosted a ride this season got a nice business card holder, suitable for cards to hand to prospective members. Also, the young Stusnicks, Henry and Hunter, were awarded "Power Puppy" plaques in absentia.
Next the assembled DOGS demonstrated their eating prowess, demolishing what at first looked like an over-abundance of food. There was no snow to entice us outdoors this year to work off the calories, but a group of stokers provoked some hearty laughs playing with the flashing LED rings that Barb Cate brought.
Pre-party ride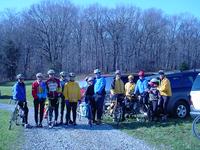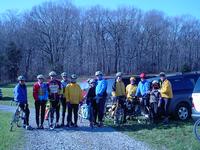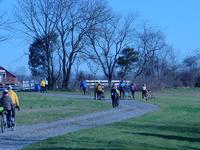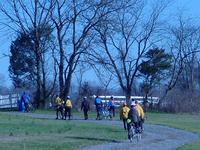 Business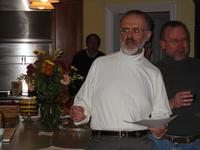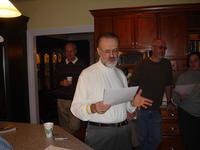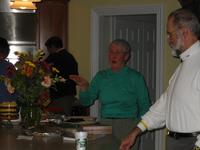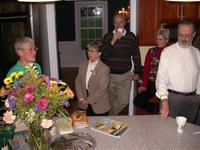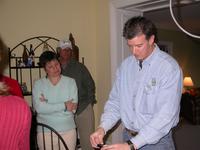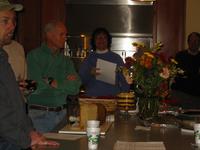 Food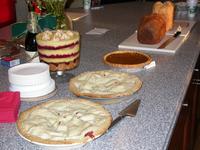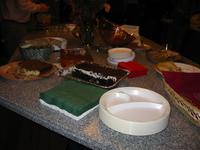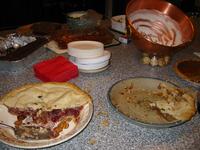 Fellowship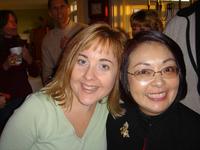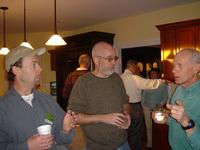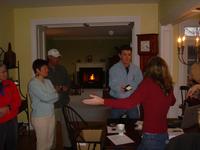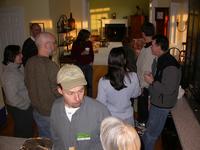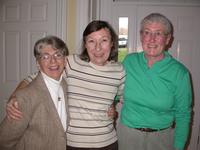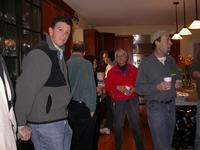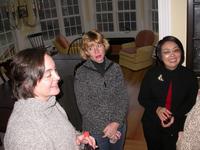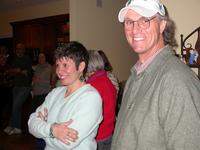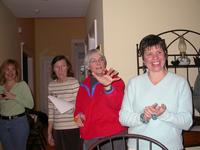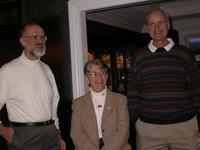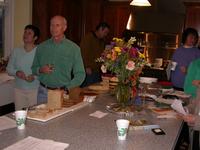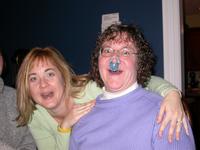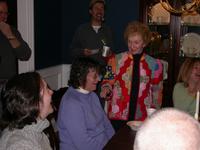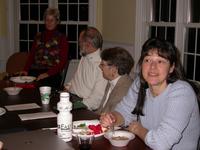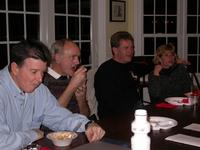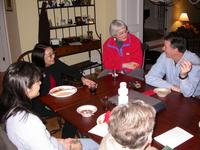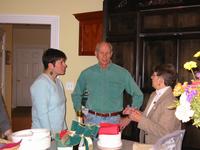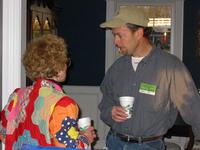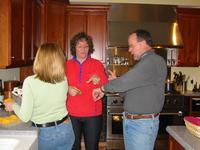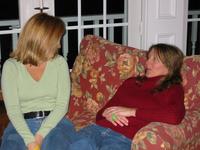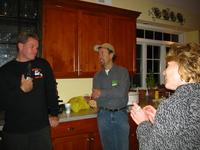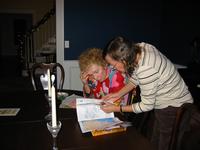 Fun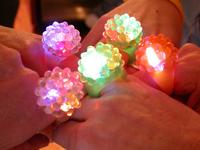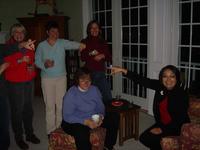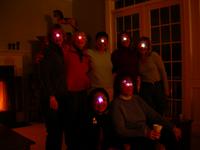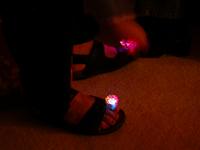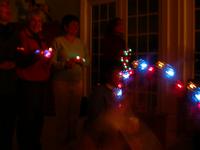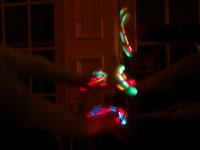 8 sec. movie clip of flashing rings [Quicktime; 2.2MB; fast connection recommended!]
Feline
Feline?? Wrong club!
---
---
Generated automagically on Sun Dec 12 22:53:40 US/Eastern 2004 from 041204.pho dated Sun Dec 12 22:53:36 US/Eastern 2004 by /home/dmk/perl/pho.pl, @(#)pho.pl 1.24.
Copyright © 2004, David M. Kristol (text, photos); George Wells (text); Marjorie Brandriss, Walt Willard, Alan Bergstrom (photos)