?Haunted? Mansions and Streams
| | |
| --- | --- |
| Date | October 31, 2004 |
| Hosts | Susan and Greg Adam |
| Where | Adams' House, Berkeley Heights |
| Who (else) | Helen and Bob Bird, Marji Brandriss and Dave Kristol, Barbara and Tracy Cate, Debbie and Alan Cudworth, Claire Hamanaka and Walt Willard, Brenda and Larry Isherwood, Susan Nicolich and Dave Snope, Cheryl Prudhomme and Mark Cook |
The only thing spooky about this Halloween day ride was the confluence of sensational weather (temperatures in the low 70's) and fall foliage at its glorious peak. Greg and Sue Adam chose a challenging route for their first foray into hosting a ride, but they acquitted themselves nicely with all the arrangements. (The weather caught them a little off guard, though. They were prepared for a more conventional October day, with things arranged for an indoor gathering.)
Nine teams gathered at the house for pre-ride snacks and chatter (and photos), two dressed up for the occasion, before heading out to the hills of Somerset County. Many of the roads were familiar from previous rides in the area, but our hosts managed to find a few we didn't know (and one we wouldn't have minded missing). What's more, we traversed some in an unfamiliar direction, so they seemed new.
Among some of the memorable occurrences:
Trudging up Claremont Road and having a jogger pass four tandems! (Claremont wasn't on the original route. It was part of a detour around closed Post Kunhardt Rd. I will welcome the original route.)
Going down Jacob's Ladder, which, because of wet leaves and lousy, narrow road surface, was about as much fun as going up.
Riding uphill along Ravine Lake, which wasn't nearly as bad as I had remembered it. However, Lake Road had joggers and cyclists aplenty, which made for interesting situations when cars wanted to pass.
A really nice six-mile tandem cruise along Roxiticus/Mendham Rd., through Peapack-Gladstone, to the Far Hills Fairgrounds and a very welcome rest stop (and great snacks). We chatted briefly with a half-biker who said he had a tandem and who expressed interest in the club. I gave him my DOGS card. We'll see....
A nice long diversion from Valley Rd. onto Spring Valley Rd., which is lightly trafficked and well suited to tandems.
At the end of the ride, back at the Adams' house, we had yet another DOGS food fest. And of course this one was made more memorable by our all improbably sitting around outside on the deck in mild temperatures while Greg manned the barbecue and served up great food. As usual, the hosts' goodies were abetted by treats brought by others, as the photos will attest. As the afternoon wore on, and with the sun getting lower (this being the first afternoon post-DST), the neighborhood ghoulies and ghosties began emerging to ring the doorbell. Reluctantly, the rest of us began departing so we could meet the undead at our own houses.
Preliminaries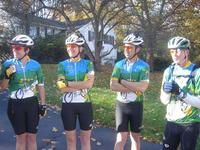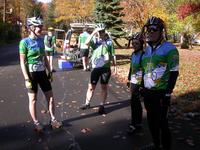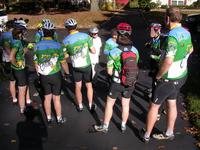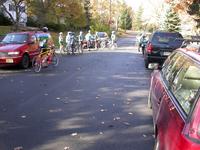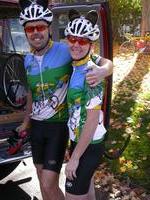 It wouldn't be a ride without...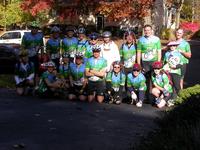 On the road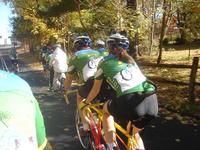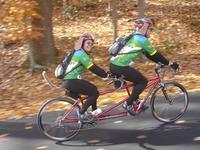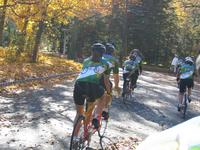 At the Fairgrounds rest stop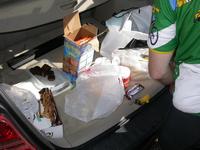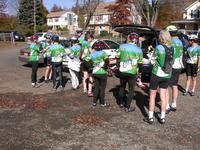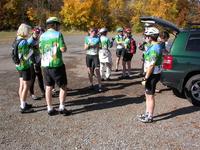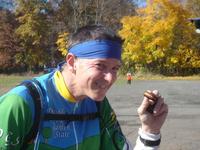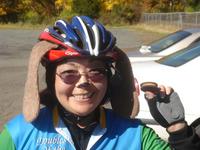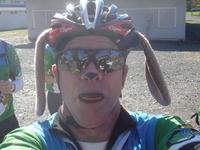 Party!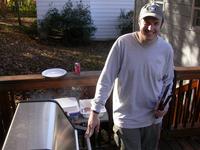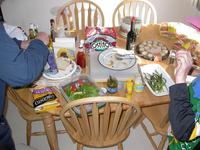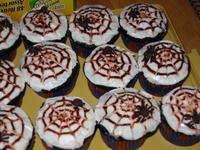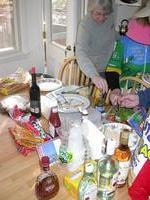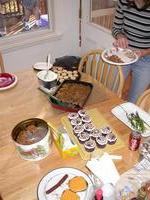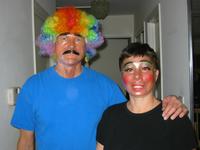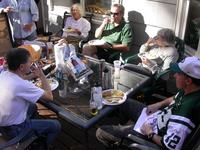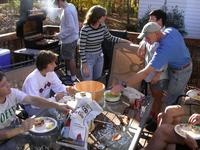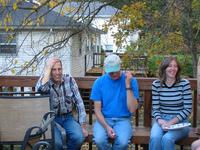 ---
---
Generated automagically on Sun Oct 31 23:06:08 US/Eastern 2004 from 041031.pho dated Sun Oct 31 23:06:07 US/Eastern 2004 by /home/dmk/perl/pho.pl, @(#)pho.pl 1.24.
Copyright © 2004, David M. Kristol (text, photos); Marjorie Brandriss, Walt Willard (photos)