Ride the Pines Yet Again
| | |
| --- | --- |
| Date | October 17, 2004 |
| Hosts | Tandems East (Barbara and Mel Kornbluh) |
| Where | Tuckerton; Burlington/Atlantic/Ocean Counties |
| Who (else) | Judy Allison and Malcolm Boyd, Helen and Bob Bird, Marji Brandriss and Dave Kristol, Marie and Richard Cochrane, Van and George Connolly, Claire Hamanaka and Walt Willard, Diana Hodnicki and Glenn Soanes, Brenda and Larry Isherwood, Mary and Ron Lessard, Susan Nicolich and Dave Snope, Cheryl Prudhomme and Mark Cook, Tricia and Ed Troike, Linda and George Wells (and others) |
Route Slip [PDF], same as 2002 and 2003
A nice crowd gathered on a nice sunny, if brisk, fall day for a nice ride through nice, flat, mostly quiet roads. Chilly temperatures and a notable breeze did not daunt the 18 teams that gathered.
To paraphrase last year's remarks, which apply equally well to this year's event:

After milling around the Acme Shopping Center parking lot, getting ready and socializing, we were all glad to get underway, as a brisk breeze, temperatures in the 50's were chilling us all. A seemingly disorganized pack of DOGS headed out of the lot through classic South Jersey terrain, piney woods with sandy soil and tidal marshlands, on roads that were, for the most part, flat flat flat! Eventually we sorted ourselves out into two main groups and some,... um, individualists. Like the past two years' rides, this year's coincided with the Country Living Fair at Batsto Village. Unfortunately, few of us took the time to investigate. But we did crowd around Mel's truck to gobble snacks!
Afterwards we gathered at Naples Pizza for their terrific pizza, Mel and Barbara's treat, and for conversation.
Social preliminaries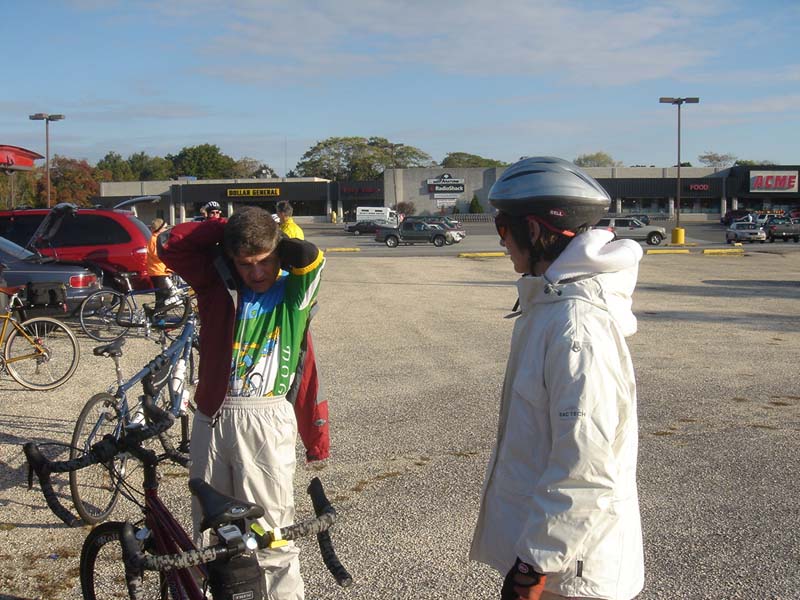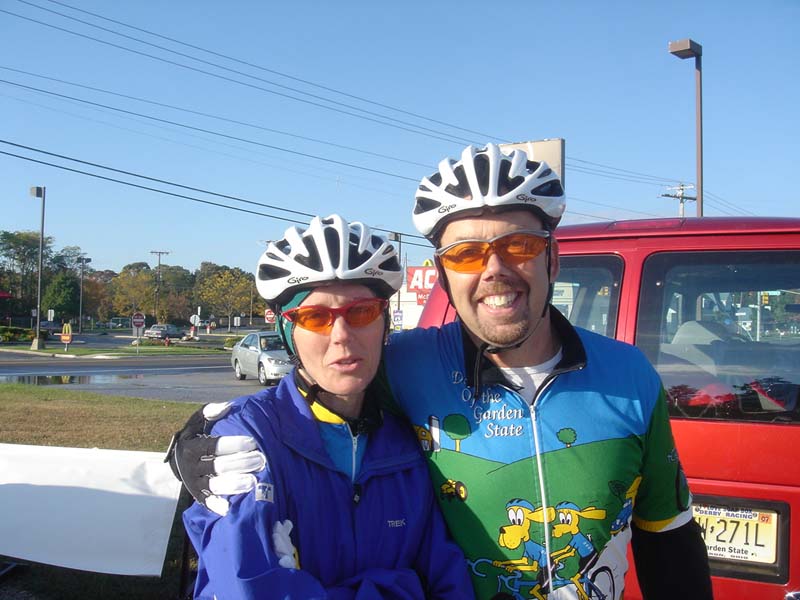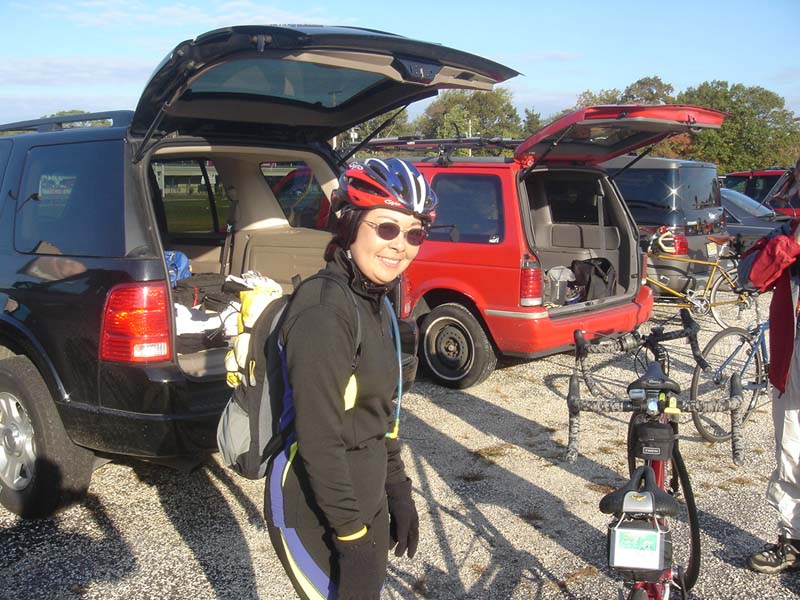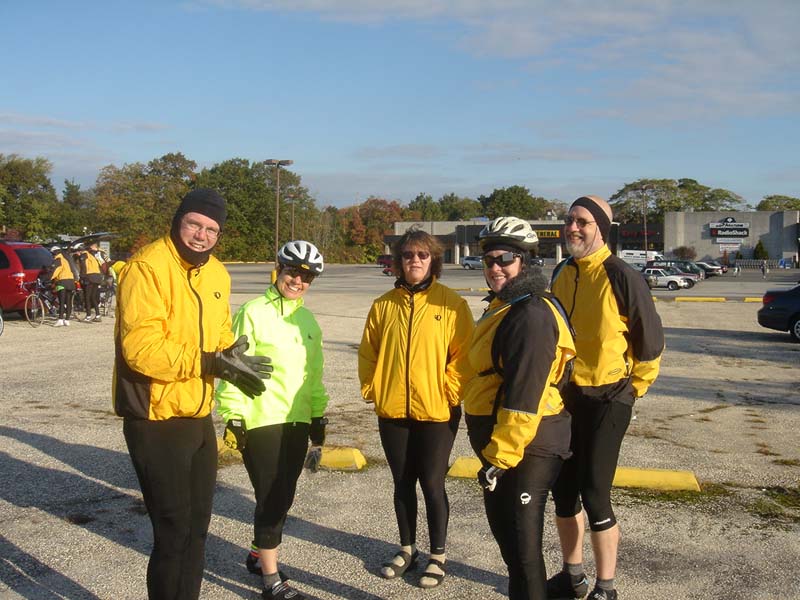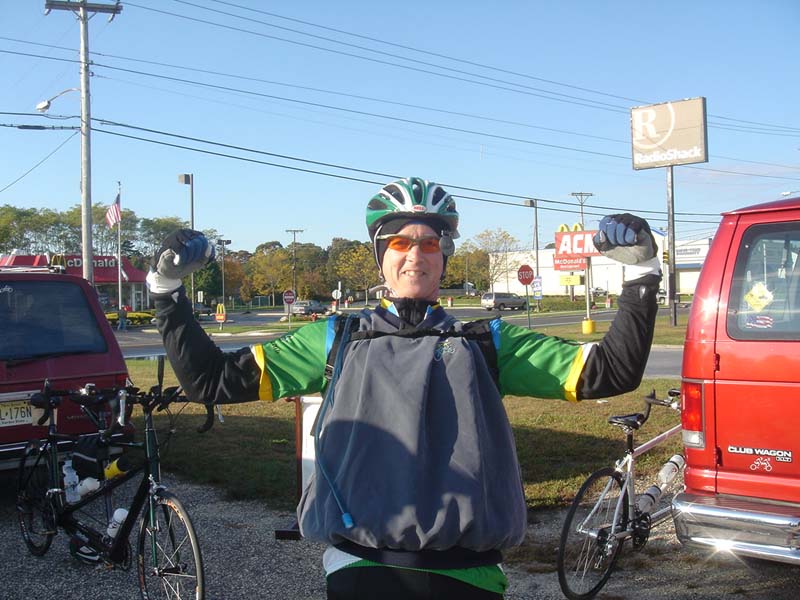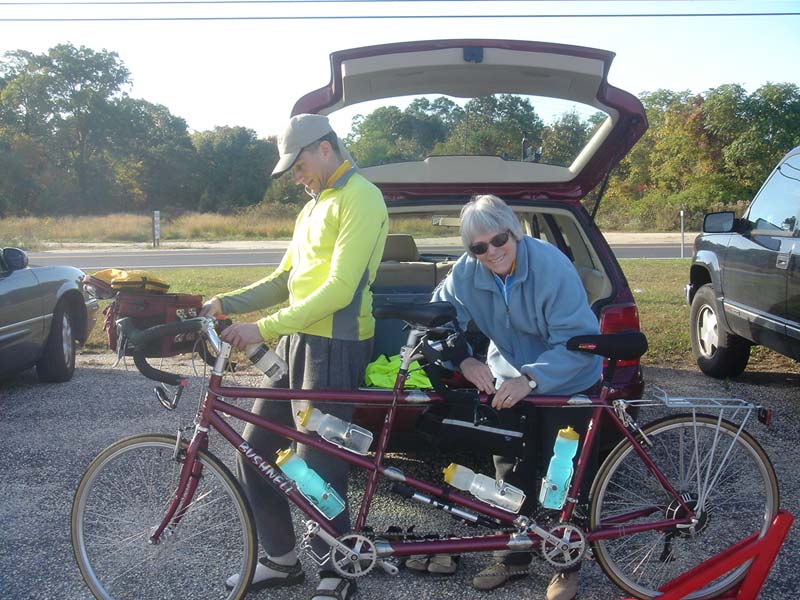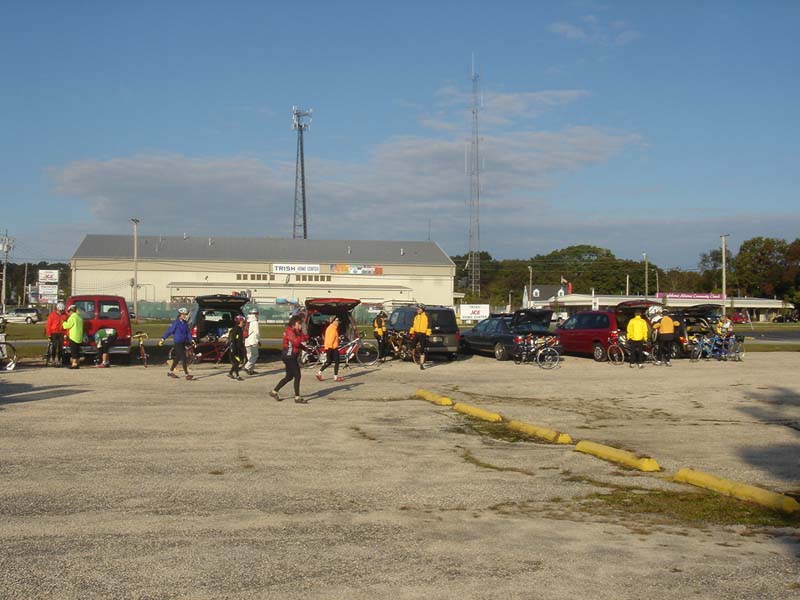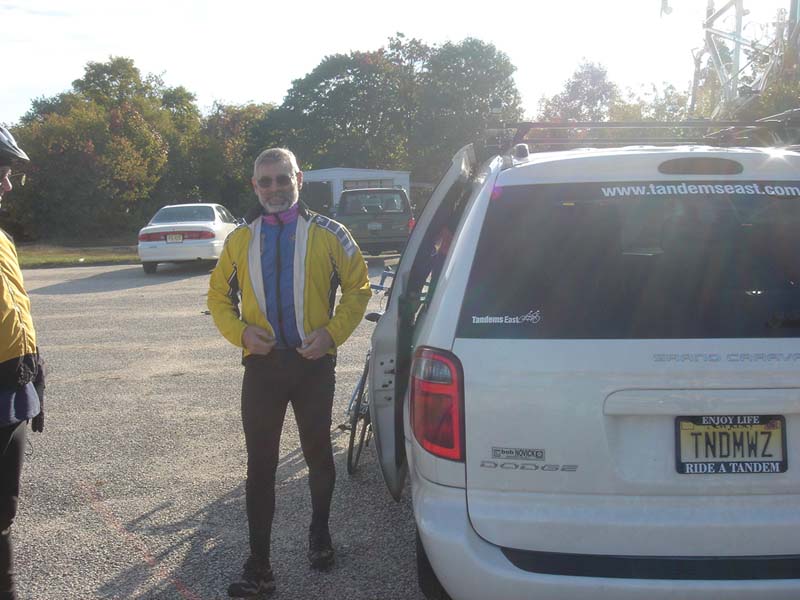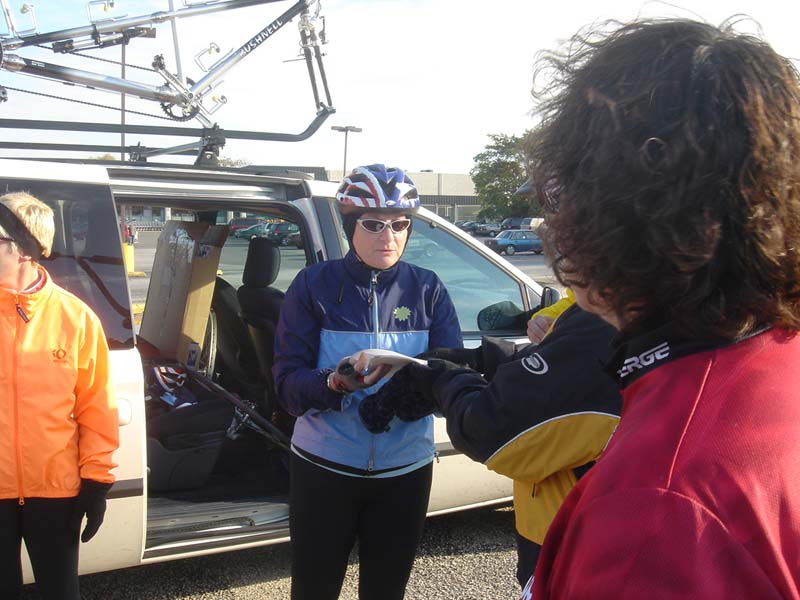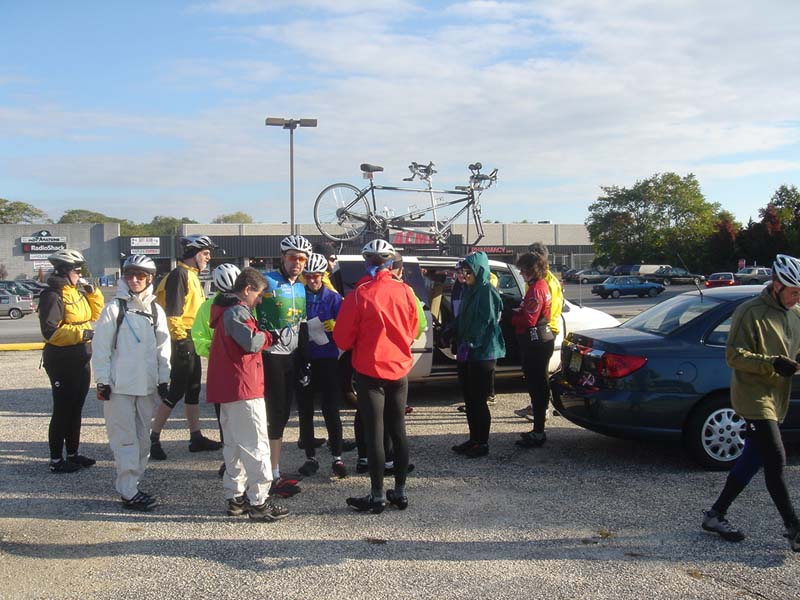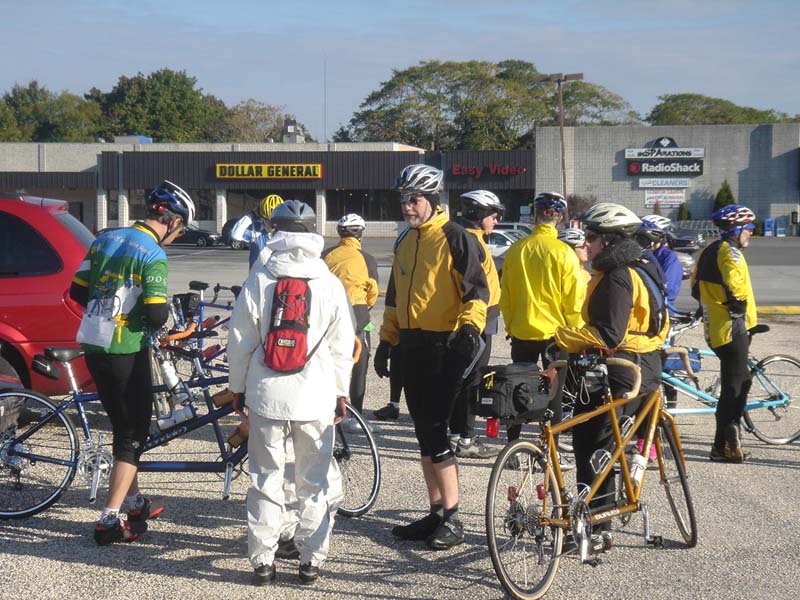 The inevitable group photo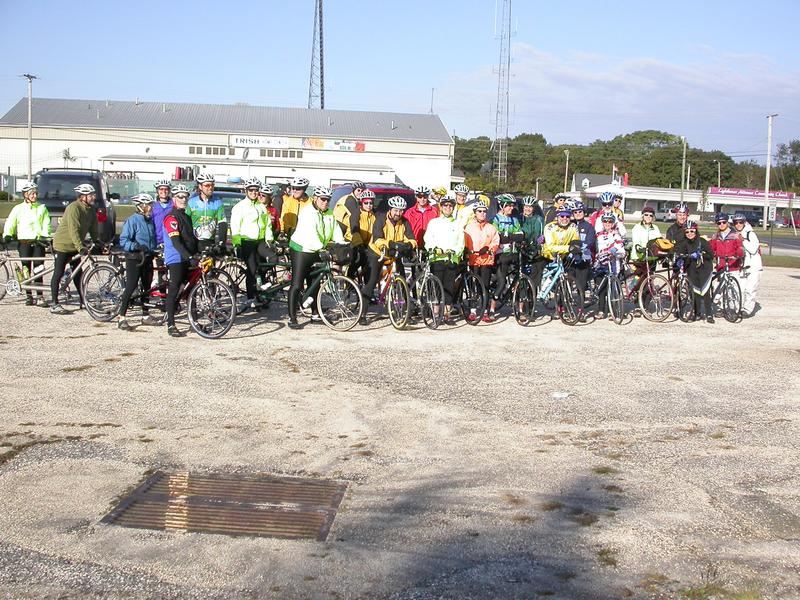 Mid-ride snacks at Batsto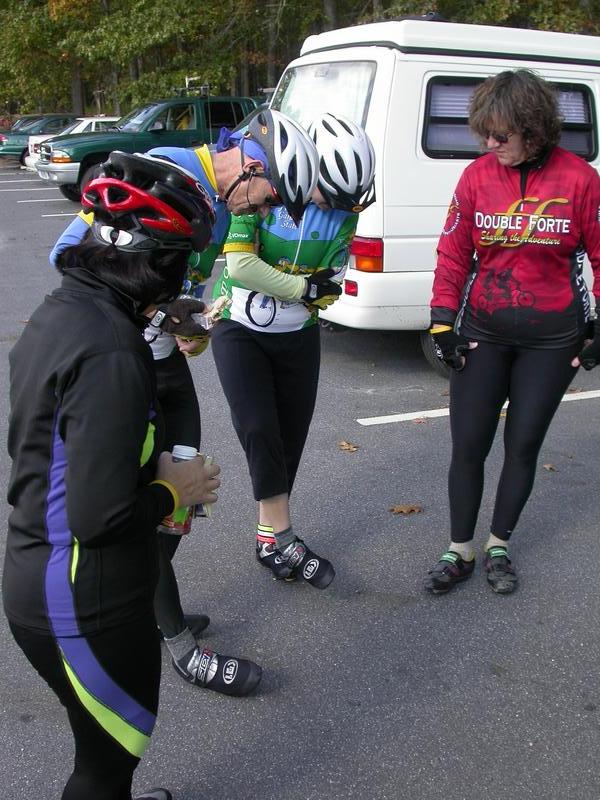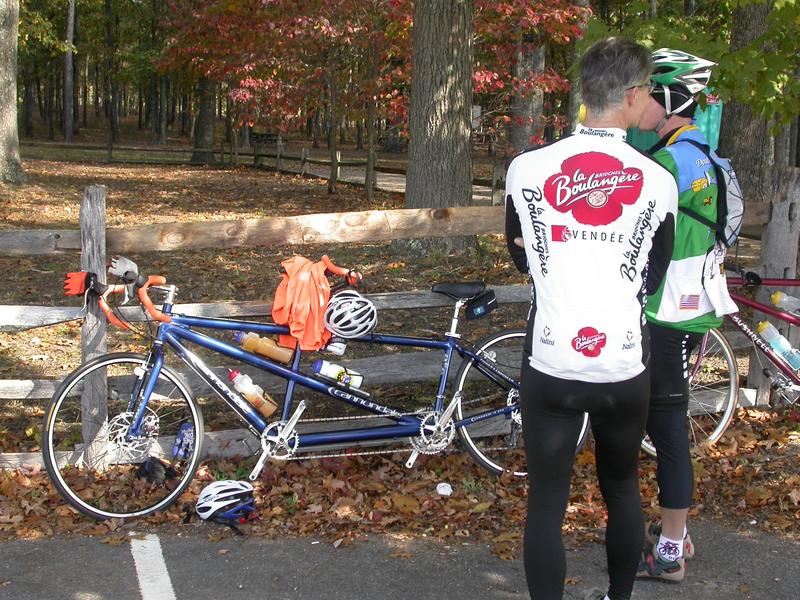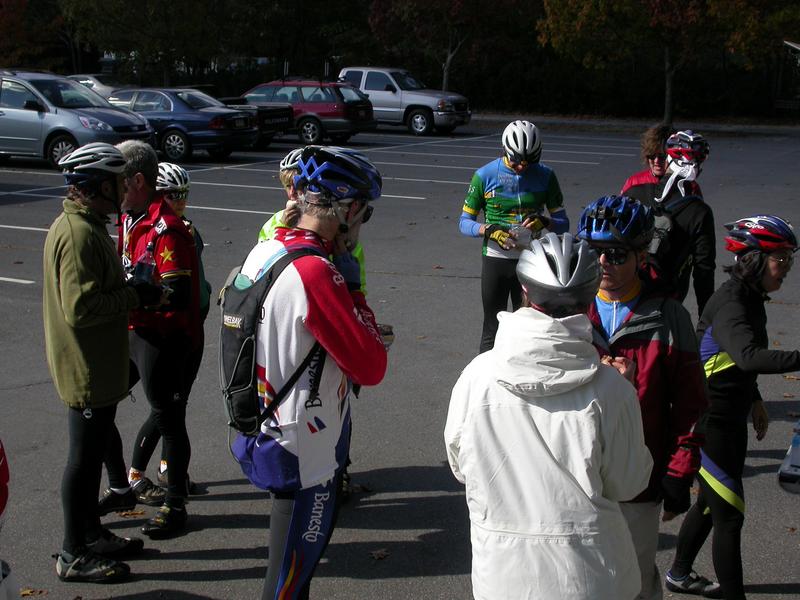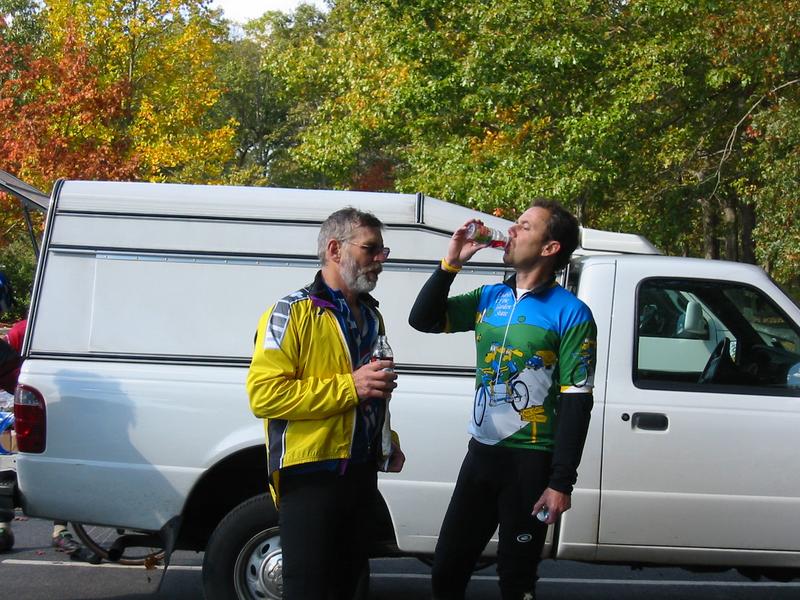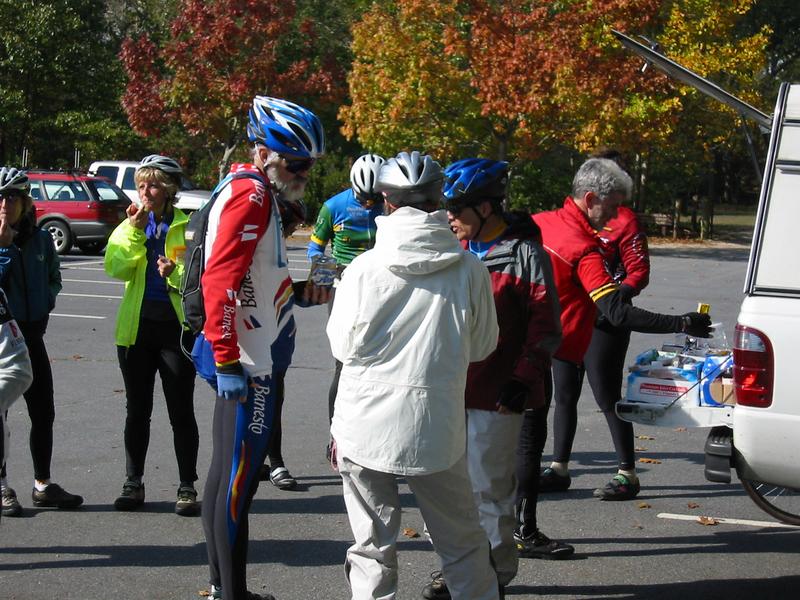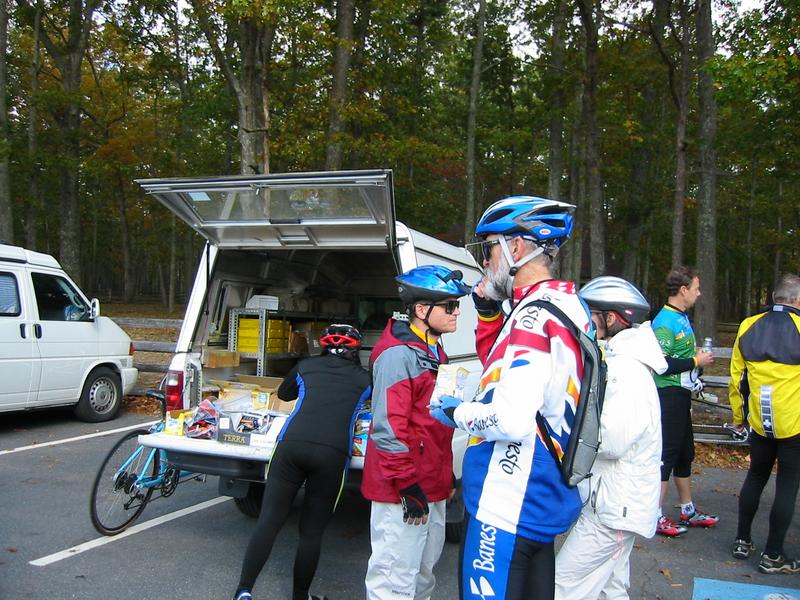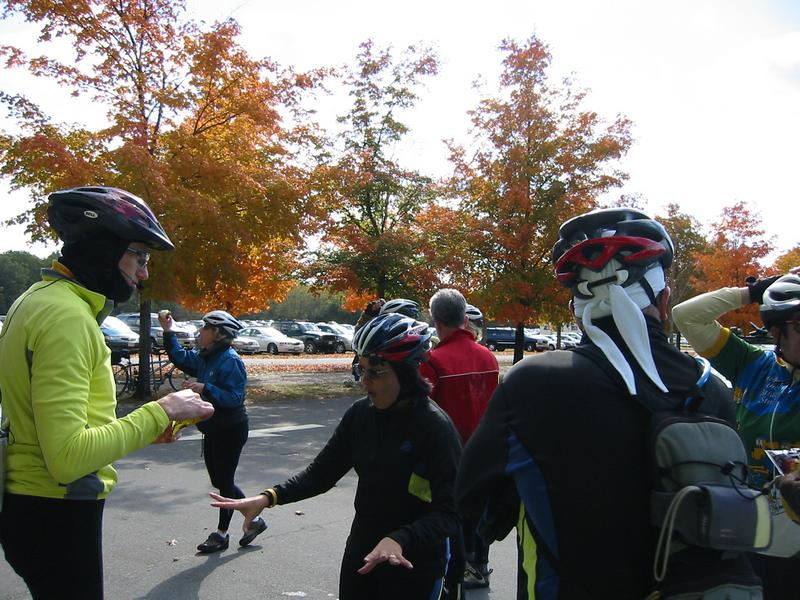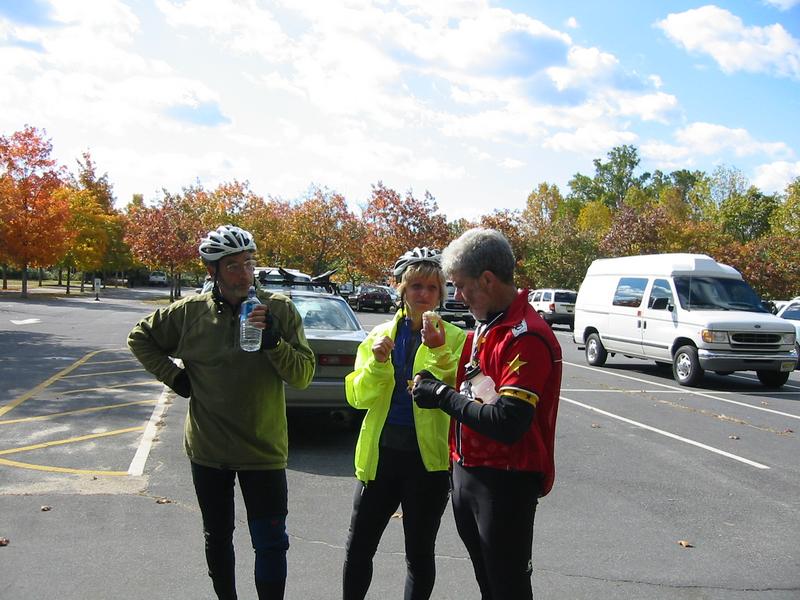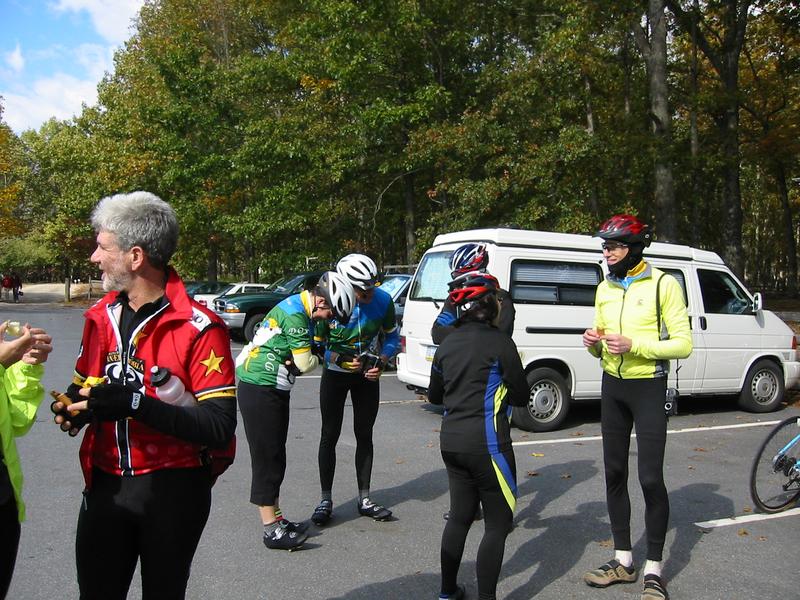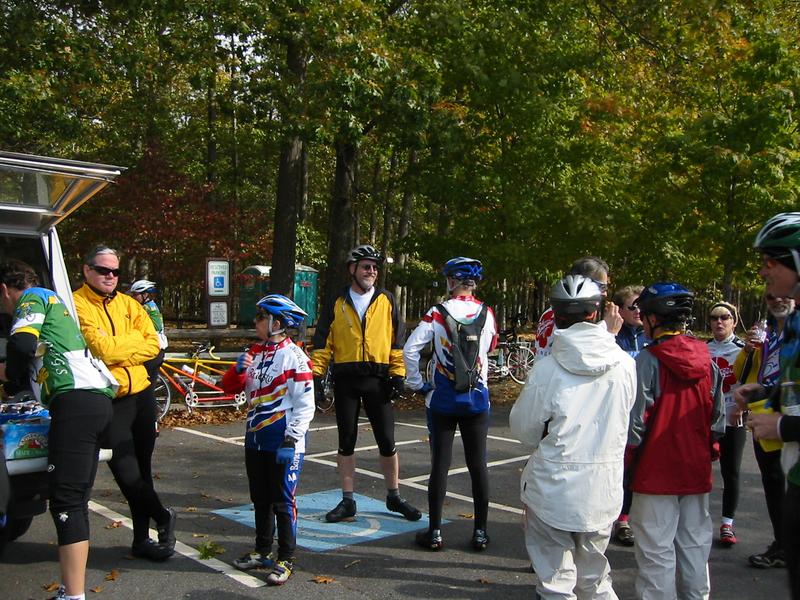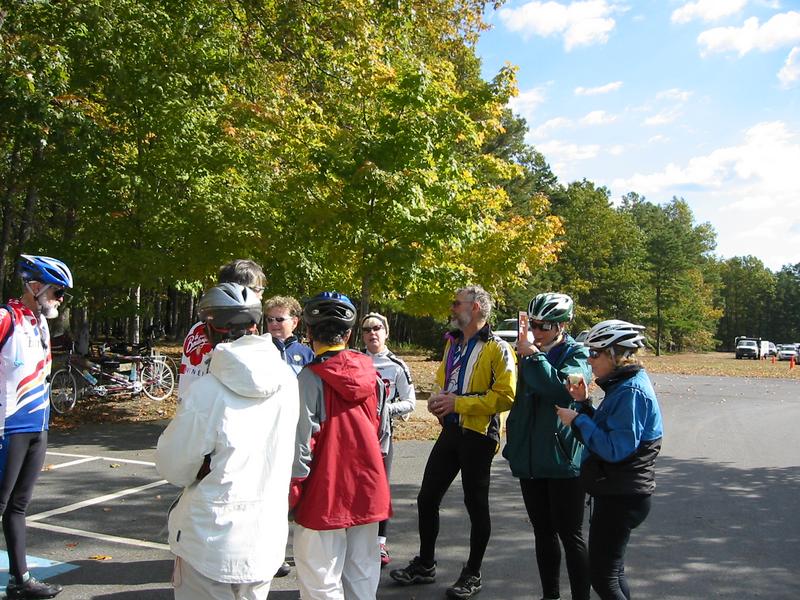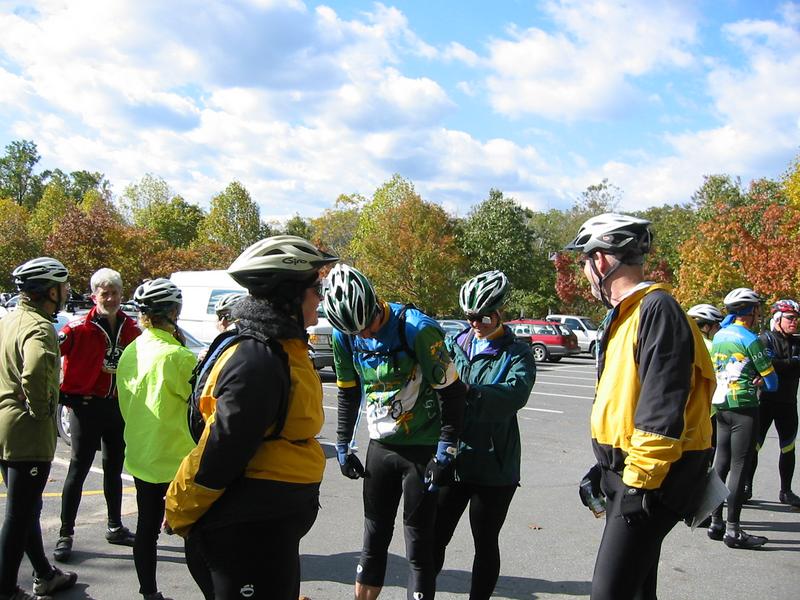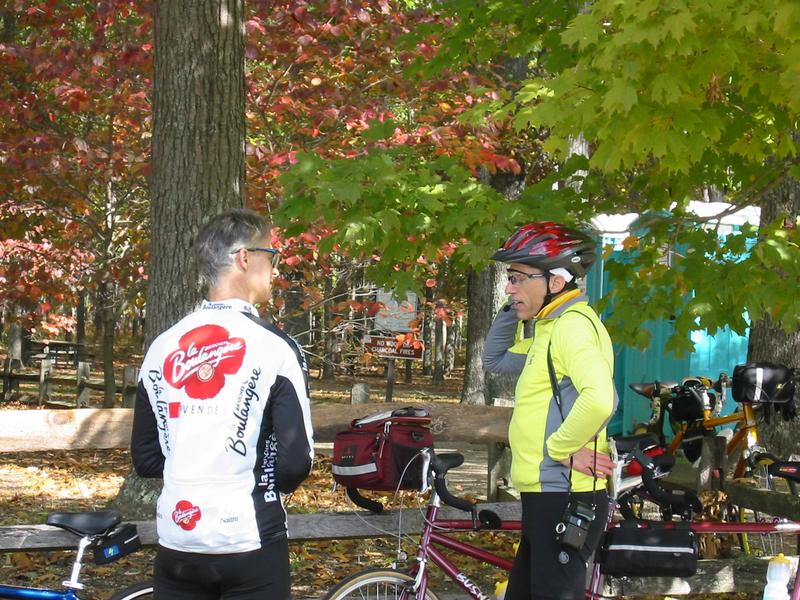 ---
---
Generated automagically on Thu Oct 21 22:06:11 US/Eastern 2004 from 041017.pho dated Thu Oct 21 22:05:58 US/Eastern 2004 by /home/dmk/perl/pho.pl, @(#)pho.pl 1.24.
Copyright © 2004, David M. Kristol (text, photos); Walt Willard, Marjorie Brandriss (photos)