American As Apple Pie
| | |
| --- | --- |
| Date | September 25, 2004 |
| Hosts | Claire Hamanaka and Walt Willard |
| Where | White Township; Warren County |
| Who (else) | Susan and Greg Adam, Judy Allison and Malcolm Boyd, Helen and Bob Bird, Christina Chan and Rich LeGrand, Julie and Stu Conway, Brenda and Larry Isherwood, Susan Nicolich and Dave Snope, Cheryl Prudhomme and Mark Cook, Linda and George Wells |
It was quite a weekend for the DOGS -- two back-to-back club rides.
Saturday 11, teams assembled at the White Township Recreation Center (along with a whole bunch of other folks from White Township -- everything from Soccer to a Mum Sale).
Attendees included the "Beta" DOGS -- Bob and Helen Bird, Greg and Susan Adam, Stu and Julie Conway, and George and Linda Wells; and the "Alpha" DOGS -- Larry and Brenda Isherwood, Al and Deb Cudworth, Dave Snope and Susan Nicolich, Malcolm Boyd and Judy Allison, Mark Cook and Cheryl Prudhomme, Rich LeGrand and Christina Chan, and Walt Willard and Claire Hamanaka -- the leaders for Saturday's DOGS ride.
Billed as the "American as Apple Pie Ride," Claire put together another excellent ride (32.7 miles) through the hills of Warren County. (Walt always gives her all the credit.) It didn't take too long for Team Wells to get "shelled out the back." The climbs on this route start early and Team Cook/Prudhomme were introducing their new Calfee to its first DOGS ride and to the other members of the club who spent much time adoring the bike while Mark and Cheryl looked on as proud parents. So, we didn't stand a chance of staying with the Alpha DOGS. Since Team Wells also had a goal of riding both the Saturday and Sunday rides, we didn't go all out on the hills for fear of blowing out our legs and being "toast" on Sunday.
The route was pretty much the same as it has been in past years -- just as beautiful as ever even though this year the loop to the scenic overview of the Delaware Water Gap was omitted. Despite the heavy rains of a few weeks ago, the roads were in good shape with the occasional spot of sand, and gravel that had washed onto the roads during the visit of Ivan. Some of the houses along the route have undergone upgrades that were noticeable from last year's ride. Linda and I noted that in the years we have been riding in this area, our average speed has increased about 50% (due to our lifestyle change/weight loss/more tandem riding than in past and more exercising on our Bowflex). So, even though we didn't set any records, we're still doing better than in the past. Even Team Cudworth (Alan and Deb -- currently on the injured reserve list) were there for the post ride festivities and brought their delicious apple/peanut butter wraps to share. Speed is not something that is judged by the DOGS. What is most important is, just coming out and riding with us or even being with us for the continued fun after the ride.
This was the last ride for Team Chan-LeGrand for this year. They will be missed because they will be moving to Texas soon. The good news, though, is they want to continue their DOGS membership because, from time-to-time, they will be back in NJ and, whenever possible, they will ride with us. This is thanks to Team Hamanaka/Willard who have an extra tandem in their garage that Rich and Chris will be able to ride.
As usual the overflowing hospitality of Team Hamanaka/Willard and their culinary creativity prevailed at the post ride festivities. Claire's chili warmed us all, only to be topped by the hot apple pie from a local bakery. Linda sat at the far end of the table. She told me that looking at the pies from her direction, they looked like small turkeys! But they sure didn't taste like turkey!
Happy Pedaling!
Linda & George Wells
Leaders - Doubles Of the Garden State
Warm-up snacks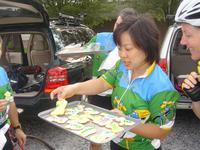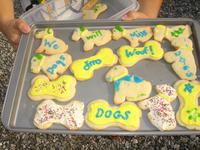 Calfee envy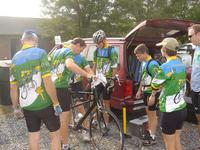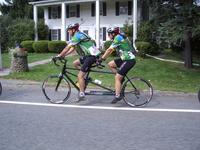 The customary "official" group photo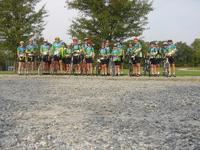 To the cider mill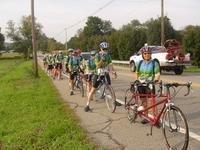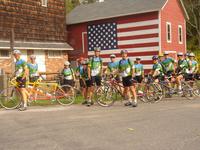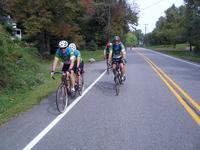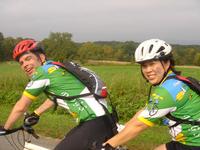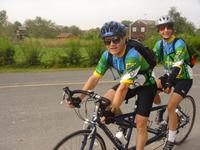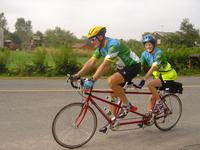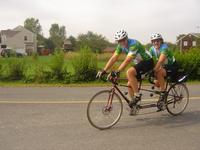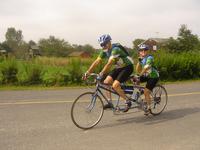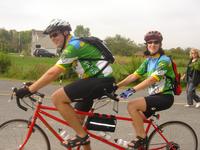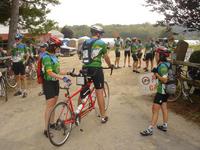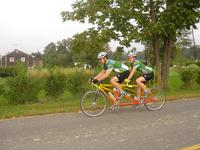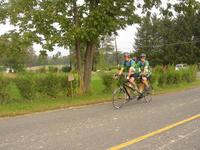 Back at the Recreation Area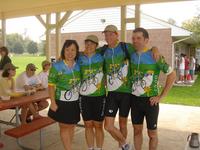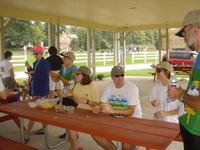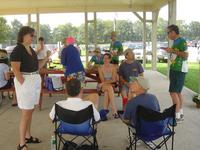 Now THAT'S a pie!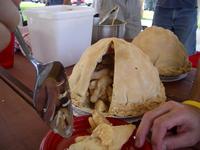 Off to Texas for Rich and Christina.... So long!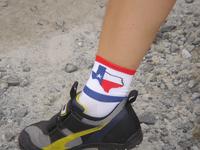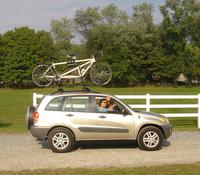 ---
---
Generated automagically on Wed Sep 29 22:25:02 US/Eastern 2004 from 040925.pho dated Wed Sep 29 22:24:59 US/Eastern 2004 by /home/dmk/perl/pho.pl, @(#)pho.pl 1.24.
Copyright © 2004, George Wells (text); Walt Willard, Brenda Isherwood (photos)