Biking, BBQ, Badminton, Bocce Ball and Beer
| | |
| --- | --- |
| Date | July 31, 2004 |
| Hosts | Christina Chan, Rich LeGrand and Lucy |
| Where | Ho-Ho-Kus, NJ |
| Who (else) | Judy Allison and Malcolm Boyd, Helen and Bob Bird, Marji Brandriss and Dave Kristol (after the ride), Mark Cook and Cheryl Prudhomme, Deb and Al Cudworth, Michelle and Richard Dittmar, Claire Hamanaka and Walt Willard, Brenda and Larry Isherwood, Susan Nicolich and Dave Snope, Linda and George Wells |
To celebrate our one-year anniversary of joining the DOGS, Rich and I decided to (finally) invite our fellow DOGS up to our place in Bergen County for a ride, followed by the usual food and fun that accompany all DOGS rides. We were thrilled to hear from 10 teams that would join us including Michelle and Richard from Long Island, our newest DOGS members, whom we met at Mel's Tandem Weekend.
Since the weather was so temperamental all week, we weren't at all surprised to see four very conflicting forecasts from four different websites for the big event. With 9 teams and our two dogs posing for the pre-ride photo, Rich and I just kept praying for the weather to hold out for this 30-mile (Rich calls it rolling-to-hilly; I call it hilly) ride. Shockingly, the sun even came out as we snacked and chatted during the mid-ride break, and it stayed sunny for the mostly downhill (according to Rich) rest of the ride!
Unfortunately, it didn't last for too long once we returned home for the post-ride festivities. As Chef Mark Cook took over grilling duties (equipped with his "special" spatula) and we began arranging the food outside, the rain came pouring down! Rich, who is a vegetarian, asked Mark to grill the carnivores' burgers for him and was ever so thankful as he stood looking out the glass doors at Mark getting soaking wet!
We quickly moved the food indoors and began the usual DOGS face-stuffing and gabbing. Dave K. and Marji were able to join us after being AWOL in Maine for what seemed like months. Although we would have loved to ride with them and listen in on their Tandem Talk secret conversations, we were just happy to see them (although I did hear the word, "Cheaters" whispered as they came in for the post-ride festivities). After devouring Claire's peanut-buttery/chocolatish pie, the active DOGS group began to get restless indoors. So we dabbled in some ping pong, went upstairs and saw Rich's "robots," watched Larry sadistically pester our dog Lucy with the laser pointer, etc. To spice up what seemed to be a winding down gathering, I yelled an enthusiastic, "Hey everybody, let's play Pictionary!" Rich was sure that there would be some exaggerated yawns and stolen glances at watches and a migration toward the front door. But to his (and my delighted) surprise, pretty much everyone got into the game (save Mark, who apparently felt he had done his bit as chef, and who can argue?...). What followed was a rowdy, full-contact game of Pictionary (for those of you not there, it wasn't as corny as it sounds!!!). During a nearly three hour (!) thrilling game of drawing and guessing on an easel leftover from my teaching days, many an artist-DOG was revealed! We even lost electricity and still continued the competition with no lights and no A/C!
So the ride ended up being less than promised: we biked and BBQ'ed, but there was no real badminton (except for Mark, Cheryl and Larry who ventured onto the swampy lawn) and no one even considered bocce! We are so thankful to all the DOGS who were able to join us and for entertaining my corny desire to have a rowdy round of Pictionary DOGS-style!
Pre-ride, with Lucy, a DOGS' dog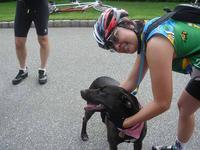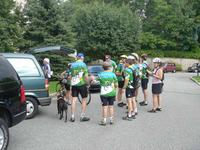 The inevitable...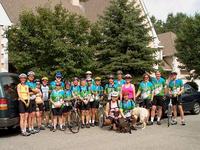 Barbecuin' in the Rain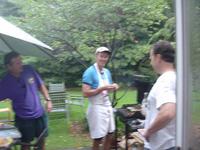 Hangin' around, eating and talking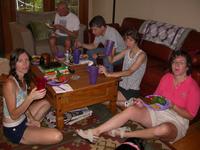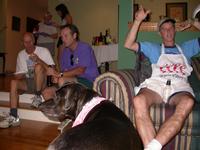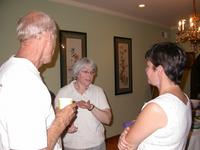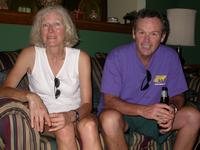 Rich explains his toys..., er..., business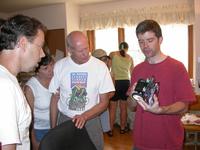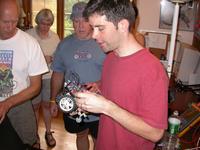 Let's not forget Barney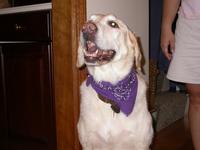 ---
---
Generated automagically on Sat Aug 7 6:56:44 US/Eastern 2004 from 040731.pho dated Sat Aug 7 6:56:42 US/Eastern 2004 by /home/dmk/perl/pho.pl, @(#)pho.pl 1.24.
Copyright © 2004, Christina Chan, George and Linda Wells (text); David Kristol, Walt Willard (photos)