Giro d'Warren
| | |
| --- | --- |
| Date | May 22, 2004 |
| Hosts | Claire Hamanaka and Walt Willard |
| Where | White Township Recreation Area; Warren County |
| Who (else) | Judy Allison and Malcolm Boyd, Marji Brandriss and Dave Kristol, Barbara and Tracy Cate, Christina Chen and Rich LeGrand, Julie and Stu Conway, Debbie and Alan Cudworth, Brenda and Larry Isherwood, Linda and George Wells |
What started out as a dreary, overcast day emerged as a foretaste of summer: sunny, humid, and temperatures in the mid-80's. As we arrived at the Recreation Area, we encountered an unfamiliar scene: The parking lot closest to the covered pavilion was teeming with teams, youth baseball teams, that is, and their parents. (In the past we've had the lot largely to ourselves.) No matter. We used a different slice of parking, equally suitable to setting up tandems and pre-ride socializing.
With nine teams present, the socializing took some time, but eventually we got down to the business of riding. The route traveled mostly quiet rural Warren County roads that rolled up and down through farm country. Eventually we stopped at the Allamuchy General Store for a break and to regroup. As we milled about, a woman drove up with a dog in her truck. She reported that he had won a "Best Kisser" award at a recent fair. He demonstrated his technique for us. Yup, a winner!
The second half of the route took us to fabled Shades of Death Road. After a couple of deceptively flat miles, the road headed uphill and persisted that way for several miles, taxing all of us so early in the season. Just when we thought we were done with the climbing, we found ourselves on Marble Hill Rd. It's a good rule of thumb to be wary of any road with "hill" in the name, and Marble Hill reinforced the rule. It pretty much did in our legs. Fortunately, there weren't too many more miles or serious hills the rest of the way back to the Recreation Area, where we all assembled for another of Claire's amazing spreads. I think she has a future in catering when she leaves her current job.
The day's ride had its share of small mishaps. Marji and Dave fell behind when they stopped to try (and failed) to get a recalcitrant cyclometer working, only to catch the pack that had stopped because Brenda and Larry had to stop to repair a busted rear derailleur cable. While waiting for the cable repair, they got the cyclometer working.
Meanwhile, Barbara and Tracy, being familiar with the area, decided to freelance a bit on the route. In so doing they managed to lengthen it a bit, so much so that the rest of us grew concerned when they hadn't arrived back at the Recreation Area in a timely manner. Larry and Walt mounted a (van) search party, but the Cates refused any help and soon tootled in for some refreshments. They also generously invited everyone to visit their farm nearby (though we declined).
Chalk up another friendly, fun DOGS event!
Footnote: Team Wells has relinquished its label as "Team Lantern Rouge" in favor of "Team Half-Fast." The Cates accordingly can no longer refer to themselves as "The Team after Team Lantern Rouge" and have decided they are The Tail That Wags the DOGS.
Pre-ride yakking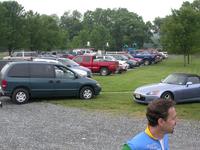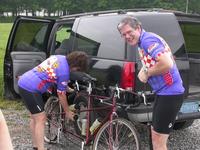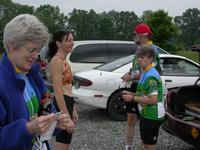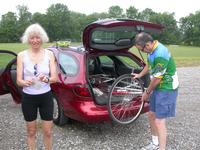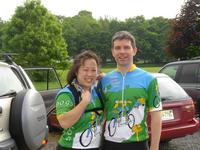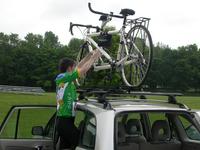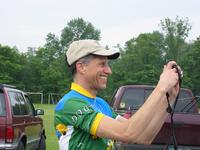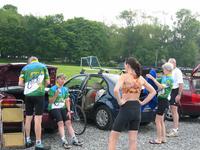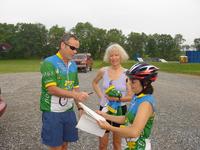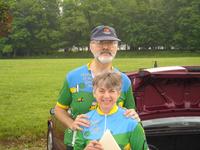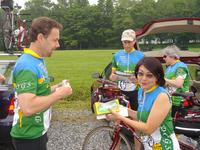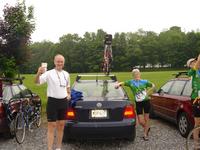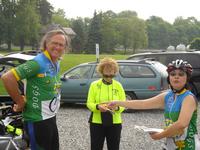 By their rear clusters shall ye know them.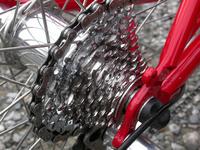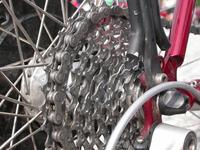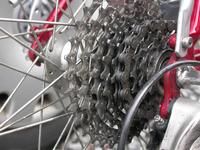 The inevitable group photo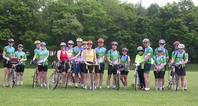 Tracy invites us to the farm after the ride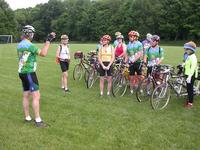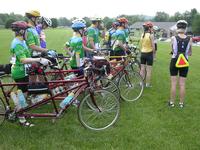 Early in the ride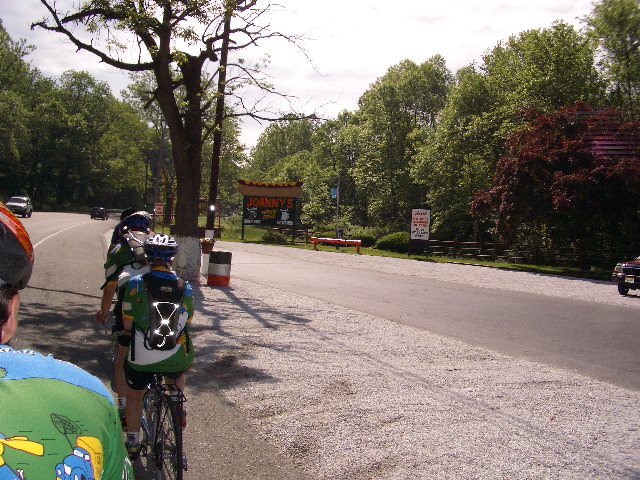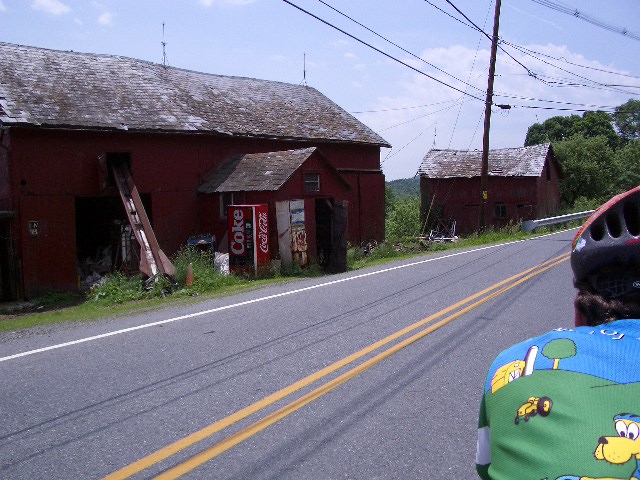 Break at Allamuchy General Store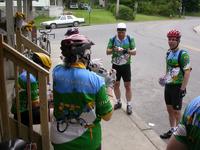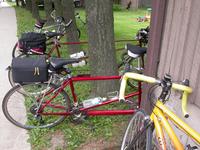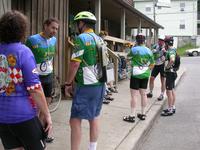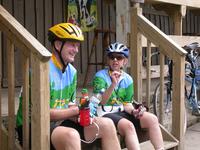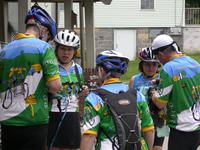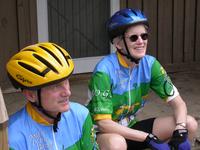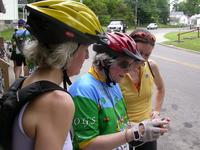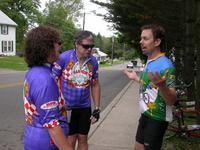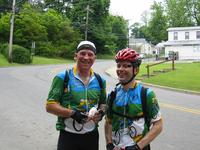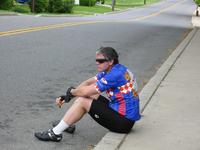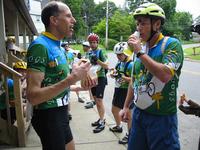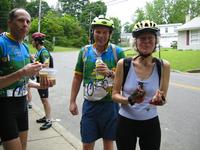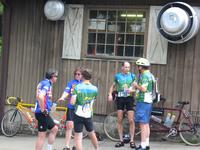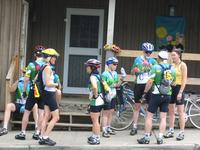 Camera shoot-out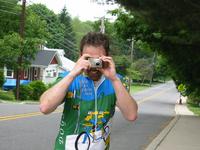 Best kisser!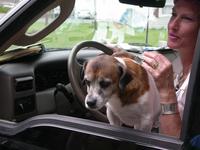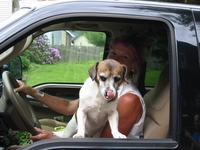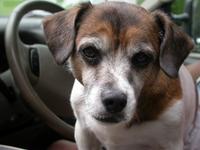 Shades of Death (the flat part)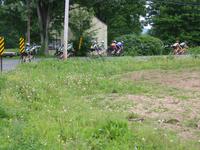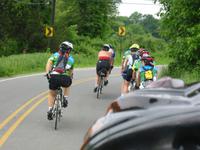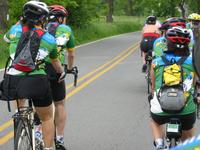 Claire does it again!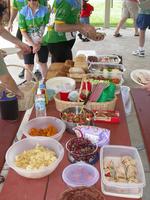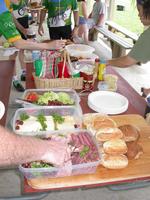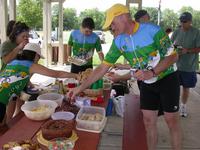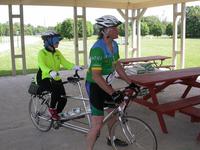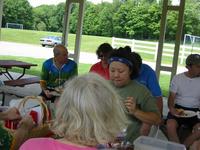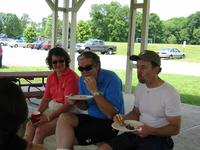 Mini car, maxi bike
At the Cates' farm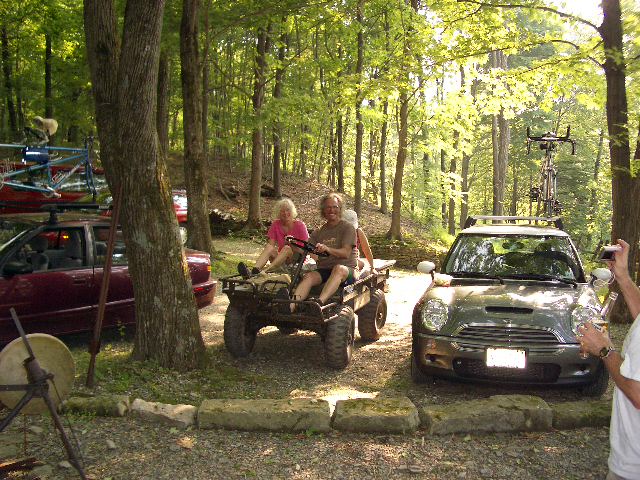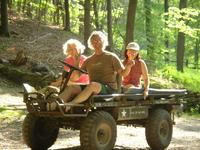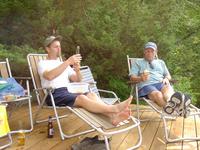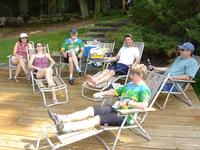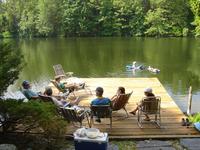 Did you hear about the great bee hunt?...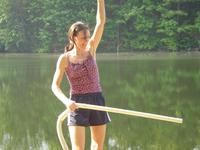 ---
---
Generated automagically on Wed May 26 22:13:04 US/Eastern 2004 from 040522.pho dated Wed May 26 22:12:56 US/Eastern 2004 by /home/dmk/perl/pho.pl, @(#)pho.pl 1.24.
Copyright © David M. Kristol (text, photos), Marjorie Brandriss, Brenda and Larry Isherwood, Walt Willard (photos)