Calisunna - Succafon Ride
| | |
| --- | --- |
| Date | April 18, 2004 |
| Hosts | Larry and Brenda Isherwood, Susan Nicolich and Dave Snope |
| Where | Califon Island State Park, Califon |
| Who (else) | Christina Chan and Rich LeGrand, Pam and Alan Bergstrom, Marji Brandriss and Dave Kristol, Marie and Rich Cochrane, Claire Hamanaka and Walt Willard, Barbara and Tracy Cate, Bonnie and Rob Geisler, Cheryl Prudhomme and Mark Cook |
The first decent weather of the year, and flowers, trees, grass,... and DOGS, were popping up all over. A bumper crop of ten teams rode the hills around Califon and to Succasunna for a mid-ride snackfest at the Isherwoods' house. Many of the roads were familiar from the other rides out of Califon Island State Park, including the inevitable climb up Frog Hollow Road. It was great to get out in the sun and warmth -- no tights or long sleeves needed today, an amazing contrast to the weather on April 4th, when this ride was originally scheduled. (No arctic aberration annuls another anticipated animals activity today!)
After the ride, some of the group headed to Nicola's Pizza for grub and gab.
Pre-ride milling around and socializing.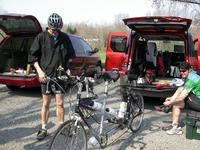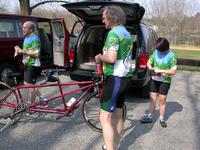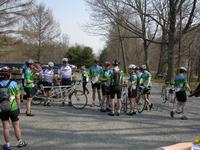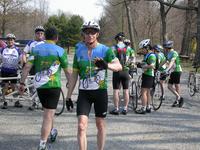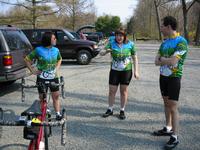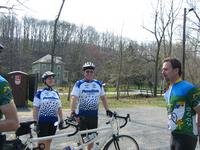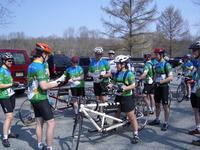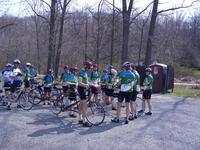 A new bike deserves a well-crafted custom stand.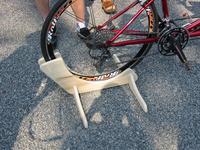 Water rockets in the park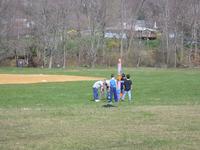 Wide-angle lens needed for this group photo!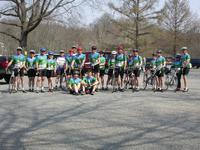 Snack-fest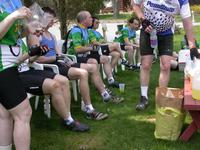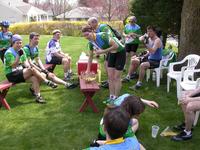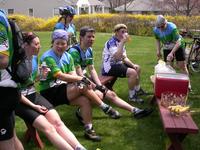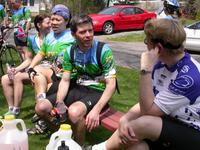 Tech-talk about bikes...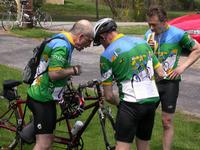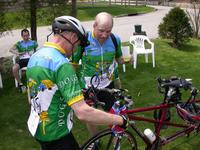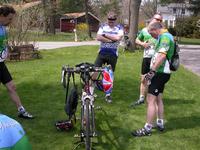 Supplanted by discussions of... cameras?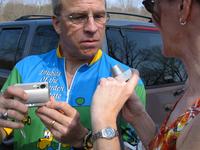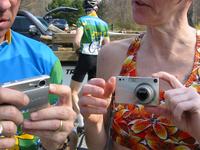 On the road...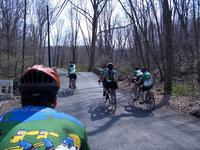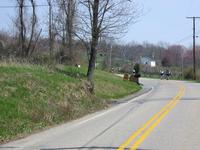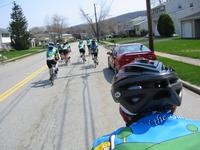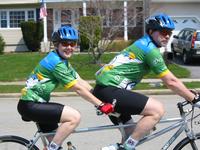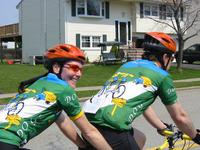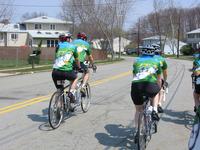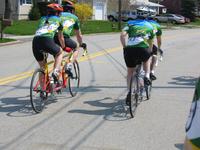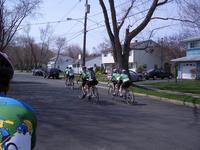 Post-ride pizza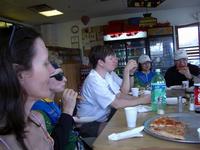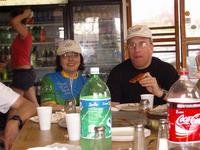 ---
---
Generated automagically on Tue Apr 27 21:54:24 US/Eastern 2004 from 040418.pho dated Tue Apr 27 21:54:21 US/Eastern 2004 by /home/dmk/perl/pho.pl, @(#)pho.pl 1.24.
Copyright © 2004, David M. Kristol (text, photos), Marjorie Brandriss (photos), Brenda Isherwood (photos)