Califon Climber
| | |
| --- | --- |
| Date | March 7, 2004 |
| Hosts | DBLS DOGS (Sue Nicolich and Dave Snope, Brenda and Larry Isherwood) |
| Where | Califon Island State Park |
| Who (else) | Marji Brandriss and Dave Kristol, Claire Hamanaka and Walt Willard, Jane and Paul Kimmel and Maria Ramos (on a triple!), Linda and George Wells |
Team Wells report.
... and a good time was had by all -- once the pain stopped. Dave Snope finally got to run the aptly named Califon Climber after three times being cancelled due to weather. Evidently he forgot that some of us might be just a tad rusty for such a demanding ride.
Today's beautiful weather -- sunny skies, temperatures around 50 -- gave no hint of the snow and colder temperatures that are predicted for tomorrow. The sun, in turn, helped to make us feel warmer than the temperatures would suggest.
The first part of the ride followed the familiar Pancake/Flapjack route up Frog Hollow Rd. Thereafter we got a nice long downhill on Beacon Hill. Of course (almost) every downhill is followed by an uphill, and we got just that. Not long after, we got a wonderful long downhill along the Lamington River on Black River Rd. that led to a regrouping stop at the Pottersville General Store. Gee, this doesn't seem so bad, does it?
Well, to shorten the story, after riding to Oldwick, with a stop at the General Store, we continued along Potterstown Rd., a long, gradual uphill and, not long after, Bissell Rd. The less said about Bissell the better. Suffice it to say there were two miles of steady climbing, some parts steeper than others. There were a few more screaming downhills and a few more painful climbs, including Farmersville Rd., but the memory of them all blurs. We were all grateful to roll into Califon Island State Park and be done. And then we could all stand around and complain about the hills while secretly being pleased with ourselves for having done them.
This account can not close without mentioning the impressive riding of our triple: Paul and Jane Kimmel and Maria Ramos. They did exceptionally well on such a demanding ride.
After the ride, most of us decamped to Nicola's Pizza nearby for food and more chatter.
Socializing before starting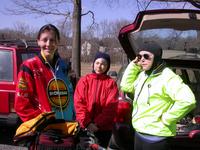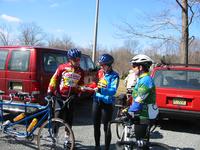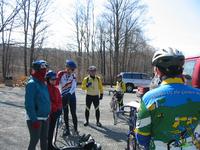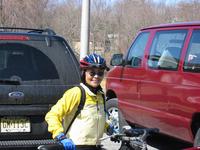 The Kimmels' Triple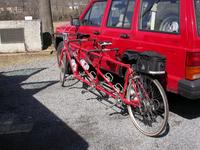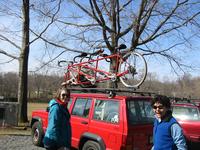 Admiring Walt and Claire's new puppy.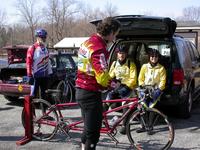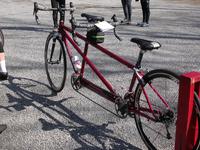 Late arrivals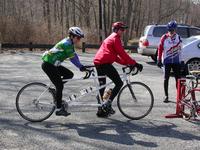 Brenda discusses the route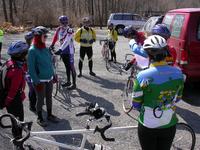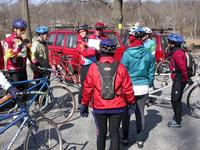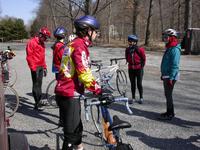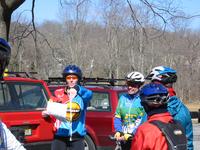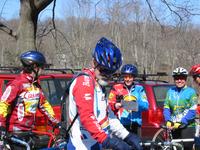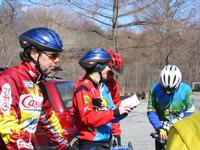 The ritual group photo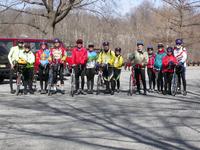 At Pottersville General Store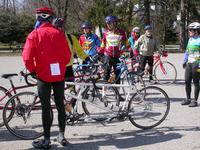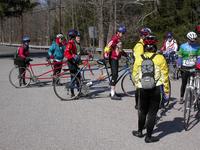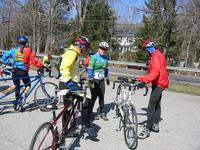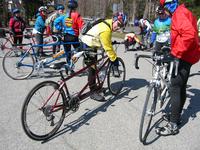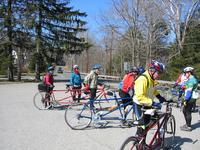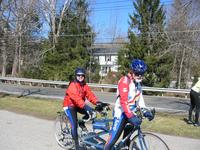 In Oldwick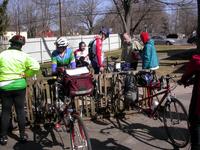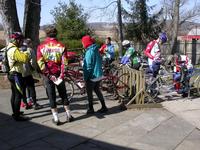 One last climb...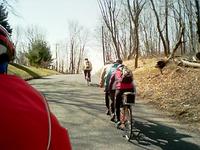 Recouping after Farmersville Rd.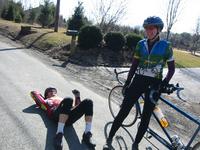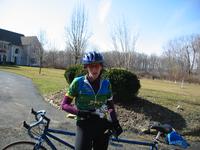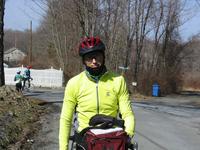 ---
---
Generated automagically on Thu Mar 11 9:11:15 US/Eastern 2004 from 040307.pho dated Thu Mar 11 9:11:10 US/Eastern 2004 by /home/dmk/perl/pho.pl, @(#)pho.pl 1.24.
Copyright © 2004, David M. Kristol (text, photos), Marjorie C. Brandriss (photos)