Offroad on the Delaware-Raritan Canal
| | |
| --- | --- |
| Date | January 10, 2004 |
| Hosts | Tricia and Ed Troike |
| Where | New Brunswick; the D&R Canal |
| Who (else) | Judy Allison and Malcolm Boyd, Walt Willard |
Walt Willard's account
Are we intrepid or what? So what if was only 4 degrees... it was sunny! We had planned on riding this one for a few weeks, so I had it in my head. Claire got it out of hers after noting the day's high temperature was forecasted to be 14 to 19, depending on when you checked. So I rode my mountain bike.

It was a gorgeous day that was more about dressing right (as in, everything you own!) than just riding. Ed and Tricia had warm beverages and homemade cakes waiting. We headed out into the bright sunshine, and after a short stop to cover newly discovered exposed skin areas, we were cruising alongside the frozen Millstone River. Stopping at a general store just off Amwell Road, we resupplied our energy, and decided this would be a good halfway point at 12.5 miles. Assured by Ed that the trail was downhill and had a tailwind, we were off.

To ward off the chills, we stopped briefly trailside for Ed and Tricia to serve hot tea.....very civilized! Upon completion of a very satisfying 25 miles, we stripped off the layers and feasted on turkey chili and homemade breads. We all look forward to doing this again when the temperatures hit the double digits!
Team Troike's account
How cold can you ride? Well Judy, Malcolm, Walt, Tricia and Ed traveled about 26 miles on the tow path from New Brunswick to East Millstone. We stopped at Chester's to warm up and for a bathroom break. At about mile 19 we stopped on the tow path for a spot of tea and then home to New Brunswick for Chili lunch.

The temperature when we left was about 12 degrees and warmed up to 25 at one point. At one point Judy decided to take one layer of shirt off and use it to cover her face to keep warm. Ed had icicles off his mustache and beard and inside his jacket. All the gatorade bottles were frozen shortly after we left. The ride was about 3.5 hours long. There was very little other traffic on the tow path. We did see two deer. Every one on return could count their toes and fingers, and we did not have to submit any accident reports for frostbite. But boy was it cold!!!

Our son Ben complimented Claire as being the only sane one of the group who chose not to ride in such insanely cold weather.

It was a lot of fun. Let's do it again soon, but the temperature should be above freezing this time.

I think we will get two superlatives: The first ride of 2004 and the coldest. But it was sunny.
The porch and car agree... It's cold!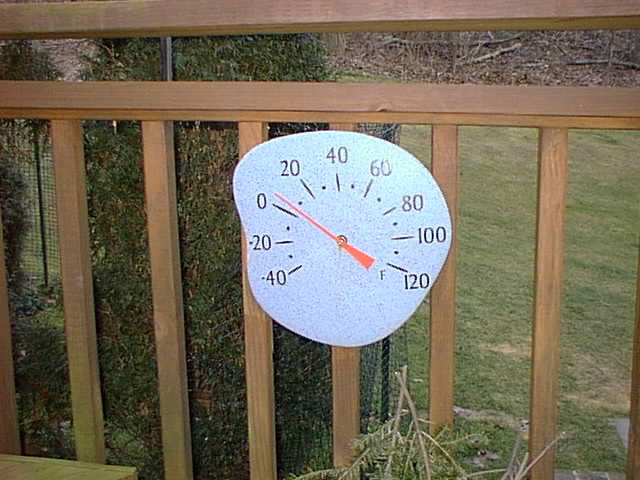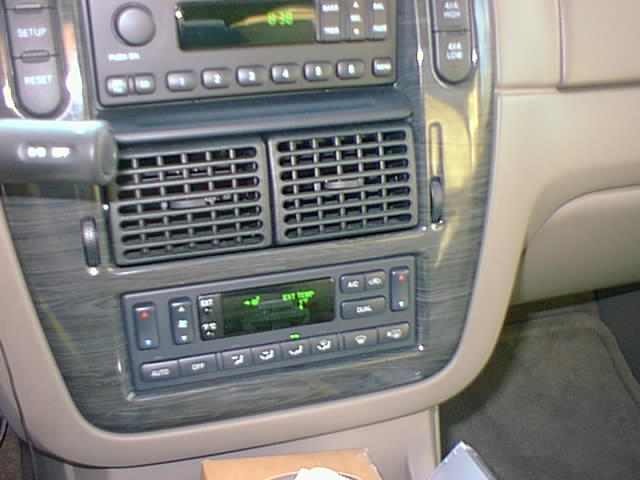 The intrepid riders.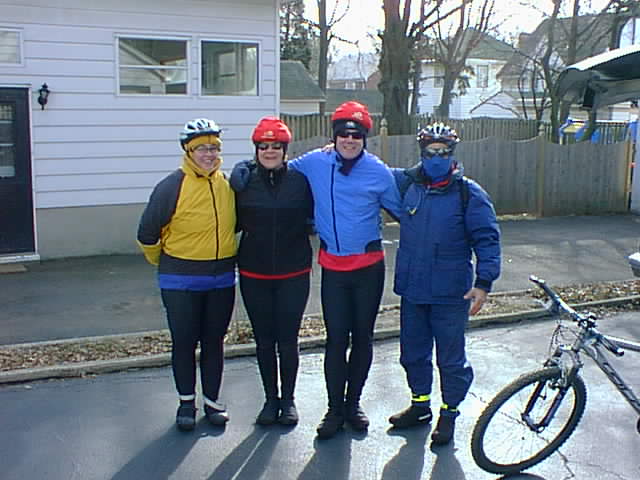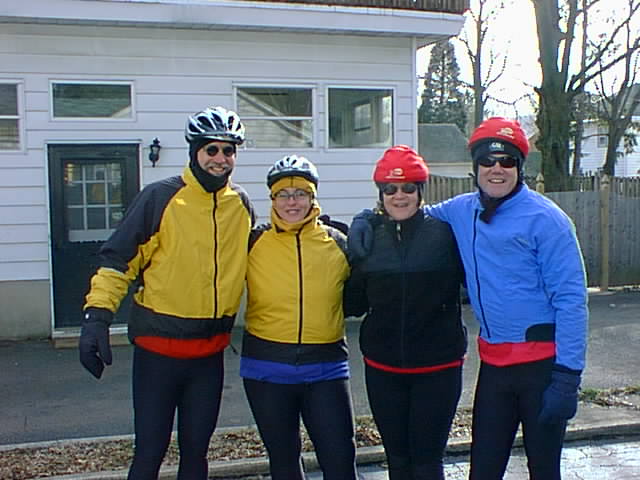 Icy waters, chilly people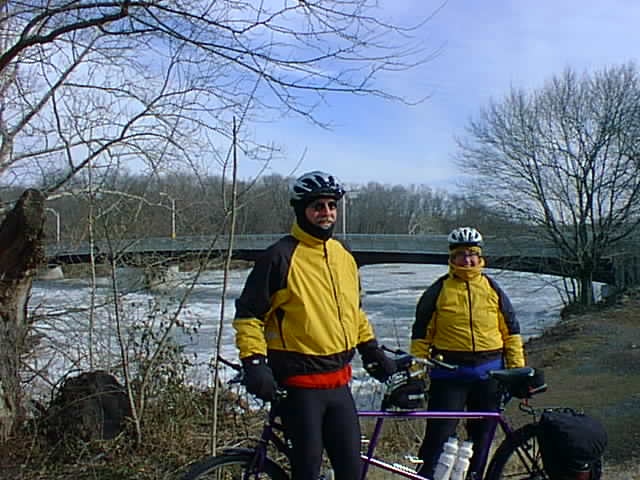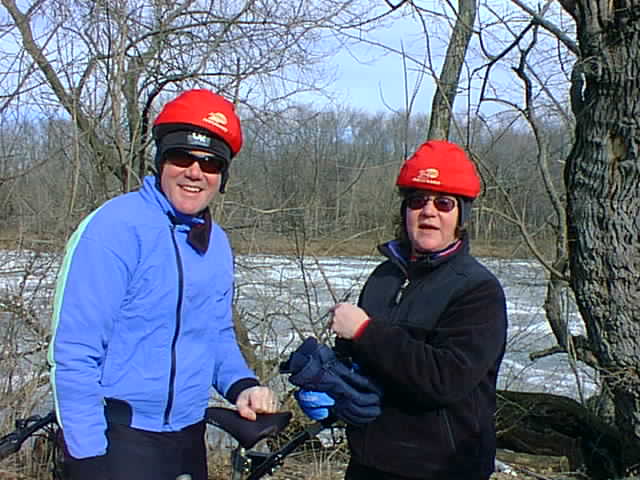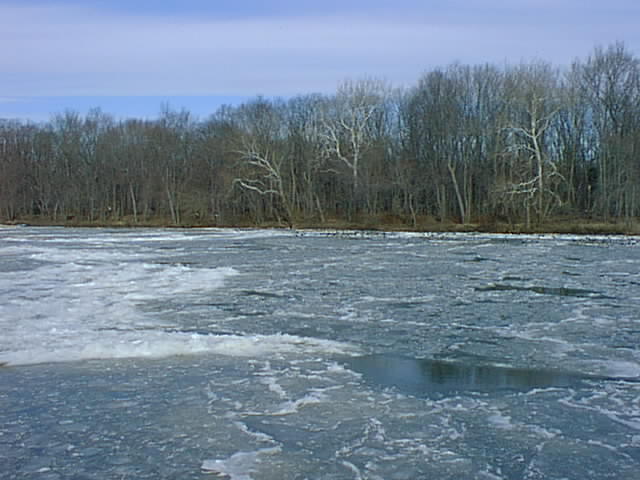 Along the trail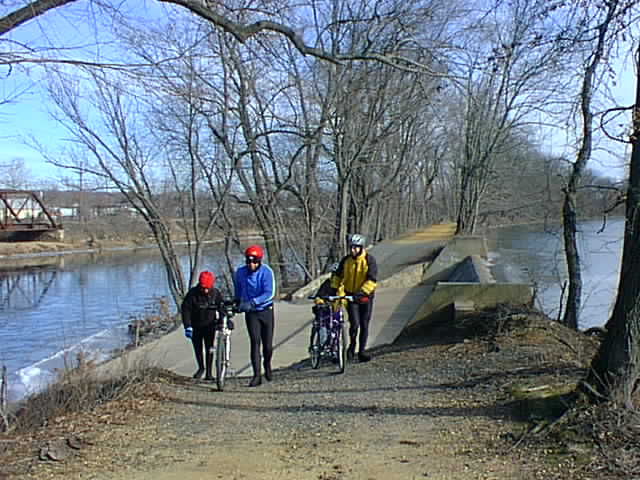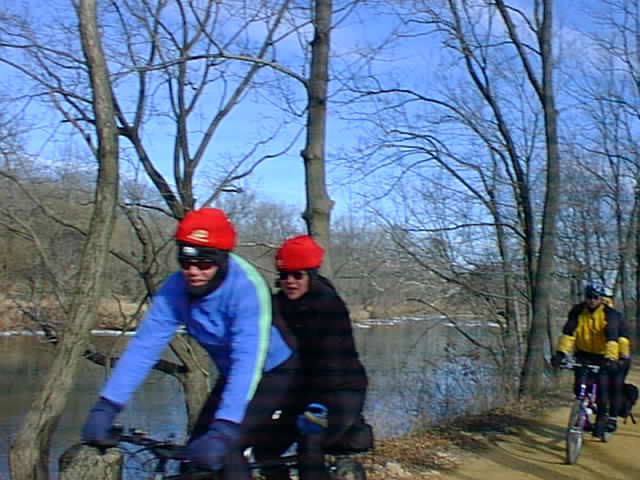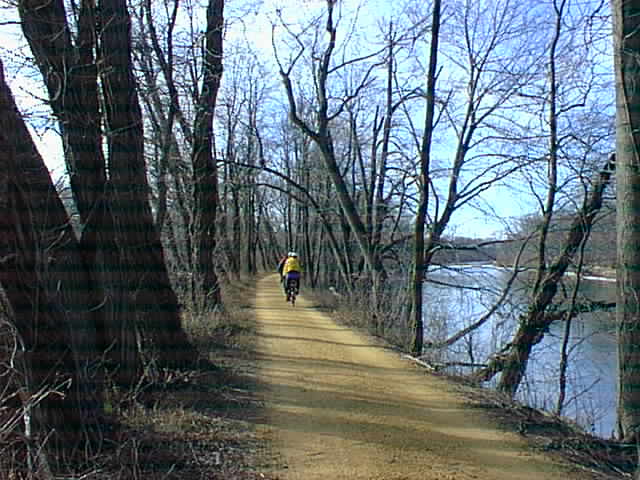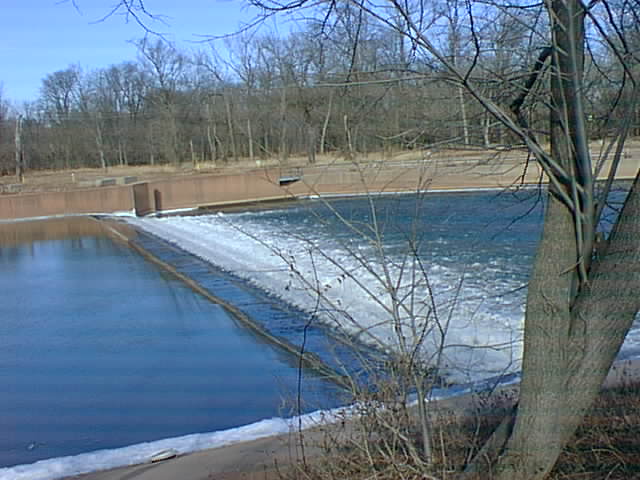 Heading back after the half-way point.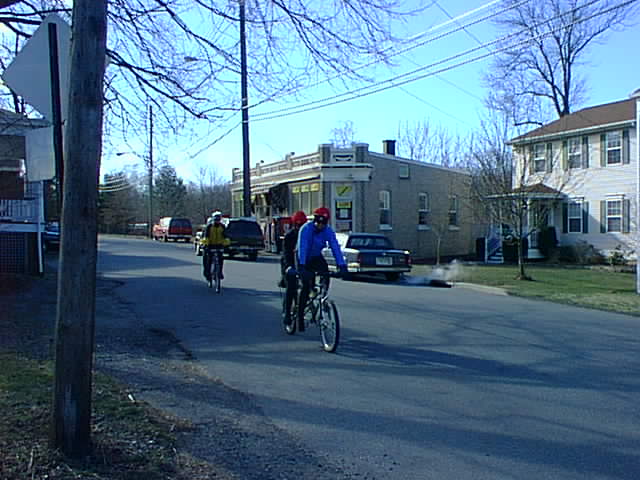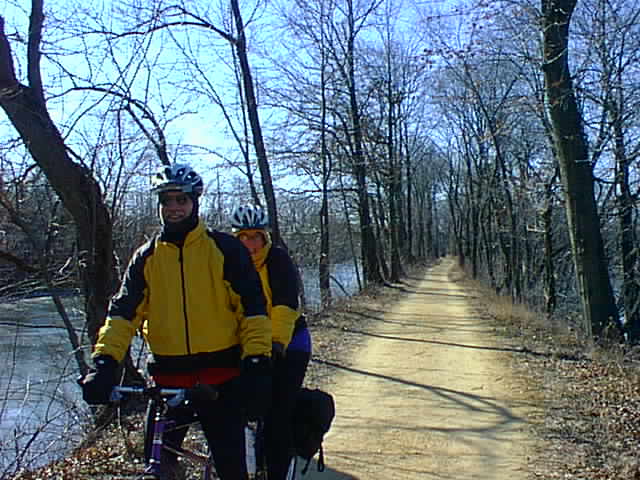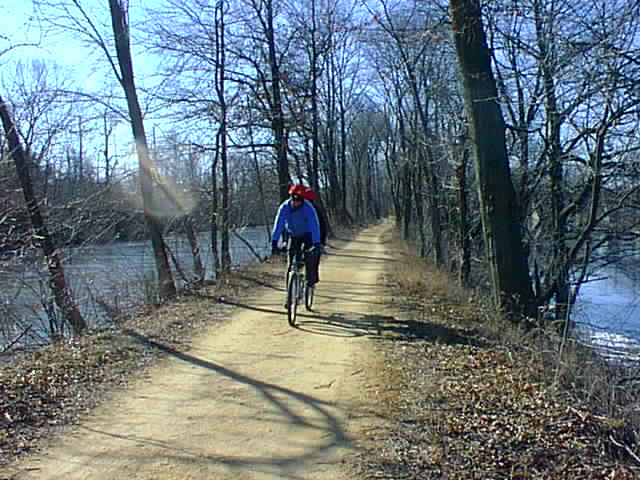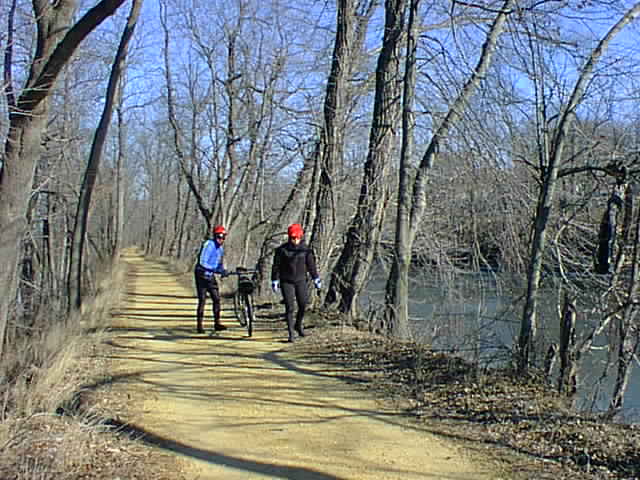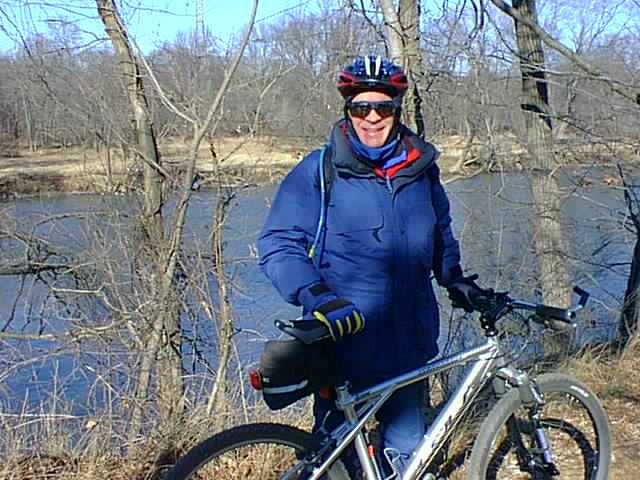 Tea time!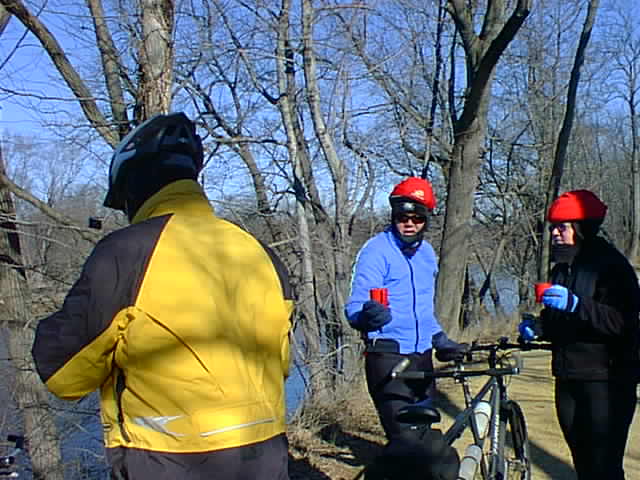 ---
---
Generated automagically on Sun Jan 11 11:28:30 US/Eastern 2004 from 040110.pho dated Sun Jan 11 11:28:29 US/Eastern 2004 by /home/dmk/perl/pho.pl, @(#)pho.pl 1.23.
Copyright © 2004, Walt Willard (text and pictures), Ed and Tricia Troike (text)