Kittatinny Valley Park through Allamuchy
| | |
| --- | --- |
| Date | November 8, 2003 |
| Hosts | Debbie and Alan Cudworth |
| Where | Kittatinny Valley Park; Sussex and Warren Counties |
| Who (else) | Marji Brandriss and Dave Kristol, Judy and Dave Buckland, Julie and Stu Conway, Michelle Emerson and Dan Dodson, Debbie Finlay and Joe Stun, Claire Hamanaka and Walt Willard, Brenda and Larry Isherwood, Susan Nicolich and Dave Snope, Cheryl Prudhomme and Mark Cook, Linda and George Wells |
Okay, okay, so every ride description seems to start with comments about the weather. But this time there's no getting around the fact that the weather was a big factor today. After an unusually warm week, the thermometer sprung a leak, and we experienced the coolest temperatures of the season so far. And then there was the wind, which the bright sun only partly countered! Compare today's low 40's to last week's 70's. Compare the pictures from last week (people shedding clothes) to this week's (people scrounged in their cars for more layers to add).
Despite the weather, we had a sensational turnout of eleven teams. (Welcome to first-time-with-us riders Debbie Finlay and Joe Stun!) Once we assembled in the parking lot, chose what layers to add, finished carping about how cold and windy it was, and obliged the group photo, we were eager to get going, so we could warm up. (Some of us were tempted to stay in the very nice, heated restrooms at the park!) Al and Debbie found terrain that was moderately rolling for Sussex County, through scenic farm country and along sparkling lakes. There were even three options, 17, 30, and 40 miles, all along the same route with decision points.
As usual the cohort quickly split into the faster riders and those of us who watched them pull away. Everyone seemed inclined to do either the 30 or 40 mile ride, and, at the Long Bridge Rd. decision point, the group paused. (Larry rendered mechanical assistance to Team Stun/Finlay, giving the us slower riders time to catch up.) Ultimately, five teams opted for 30, and six, for 40. The 30-mile option continued on the ominous sounding, but pleasantly rolling, Shades of Death Rd., among other smooth, generally quiet roads that eventually led back to the park.
Debbie and Al took the 30-mile option so they could get back to the park and set up for post-ride goodies. Unfortunately, their excellent plan to heat soup on the grills was thwarted by everyone's inability to light a fire in the wind. We all had to settle, which hardly seems a fair term, for an abundance of cookies, cakes, muffins, salsa and chips, hummus and pita, not to mention sliced turkey and rye breads, and hot cider and tea. It's a measure of just how good everything was that we stood around the picnic table for a considerable time, huddled and shivering in the chilly wind.
Chatting and chilling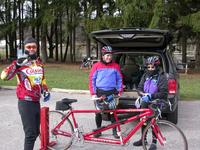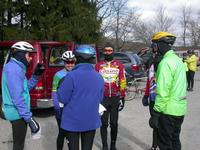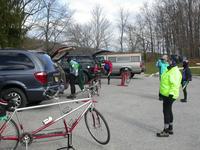 Wouldn't want to risk scratching "Pumpkin", would we, Mark?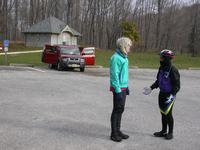 How windy was it, Walt?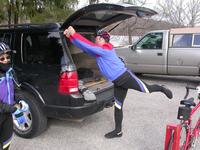 Today's group (left).
Compare layers of clothing to last week's group shot, right.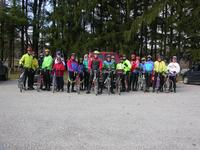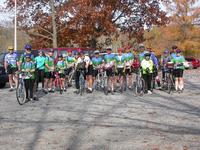 The view from the back of the pack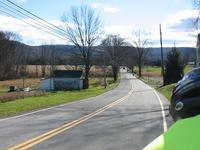 Pausing at Long Bridge Rd.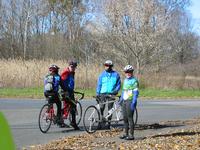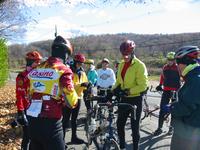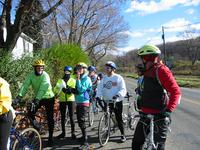 Michelle and Dan keeping warm after the ride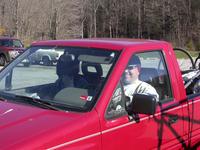 Later arrivals roll in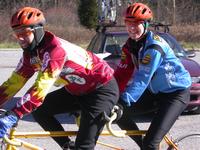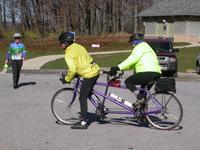 The Park is quite scenic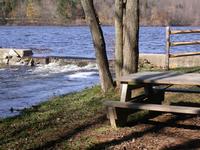 Overflowing bounty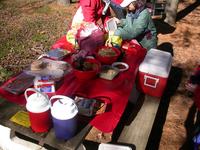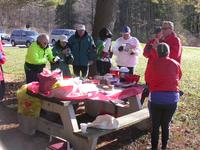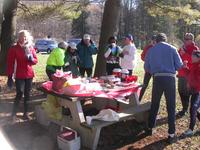 Was that a five-second rule?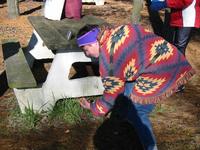 Happy Birthday, Dan!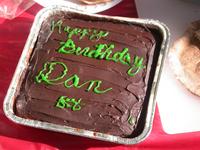 Giving new meaning to "huddled masses"...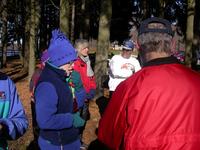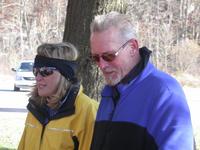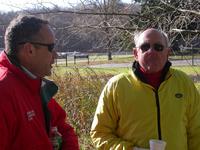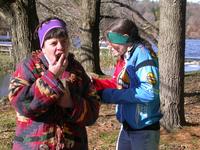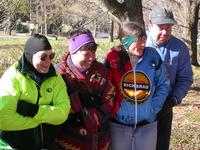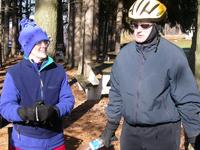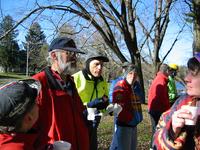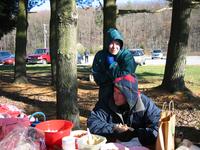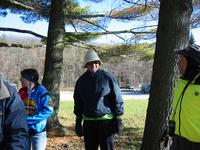 How cold was it?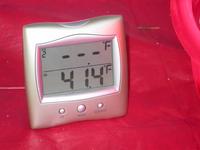 ---
---
Generated automagically on Sun Nov 9 22:24:50 US/Eastern 2003 from 031108.pho dated Sun Nov 9 22:24:44 US/Eastern 2003 by /home/dmk/perl/pho.pl, @(#)pho.pl 1.23.
Copyright © 2003, David M. Kristol (text, photos), Marjorie Brandriss (photos)