Ride the Pines Again
| | |
| --- | --- |
| Date | October 19, 2003 |
| Hosts | Barbara and Mel Kornbluh (Tandems East) |
| Where | Tuckerton; Burlington/Atlantic/Ocean Counties |
| Who (else) | Judy Allison and Malcolm Boyd, Marji Brandriss and Dave Kristol, Heather and Lou Cammisa, Barbara and Tracy Cate, Christina Chan and Rich LeGrand, Debbie and Alan Cudworth, Michelle Emerson and Dan Dodson, Claire Hamanaka and Walt Willard, Nancy and John Henderson, Brenda and Larry Isherwood, Connie Mertens and Don Engleke, Susan Nicolich and Dave Snope, Debbie and John Paulson, Carolyn and John Powers, Cheryl Prudhomme and Mark Cook, Tricia and Ed Troike, Linda and George Wells |
Route Slip [PDF], same as last year's.
Mel and Barbara sure know how to draw a crowd! Maybe it's the great pizza from Naples Pizza to which they treat everyone after the ride. Or maybe it's the great snacks at the half-way point in Batsto Village. Or maybe it's the flat riding on mostly quiet roads. Last year's ride attracted an astonishing 28 teams. This year's drew a mere 18 teams, perhaps because of the ambiguous weather. (It rained on us as we headed down the Parkway this morning but was dry in South Jersey.)
After milling around the Acme Shopping Center parking lot, getting ready and socializing, we were all glad to get underway, as a brisk breeze, temperatures in the 50's, and and cloudy skies were chilling us all. A seemingly disorganized pack of DOGS headed out of the lot through classic South Jersey terrain, piney woods with sandy soil and tidal marshlands, on roads that were, for the most part, flat flat flat! Eventually we sorted ourselves out into two main groups and some,... um, individualists. Like last year's ride, this year's coincided with the Country Living Fair at Batsto Village. Unfortunately, few of us took the time to investigate. But we did crowd around Mel's truck to gobble snacks!
Milling around, socializing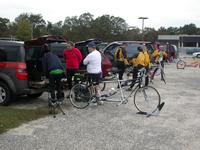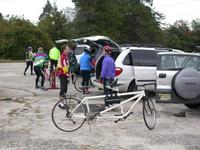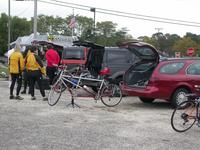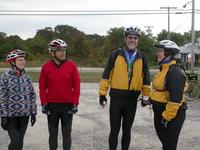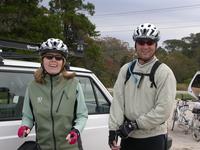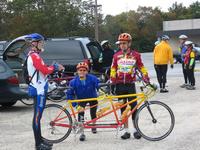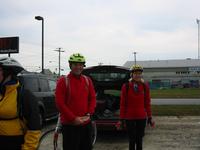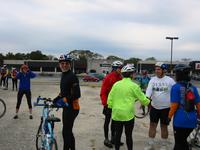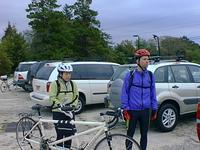 Mel gives instructions, the rest of us listen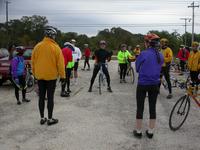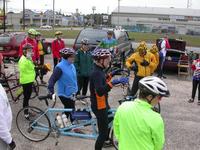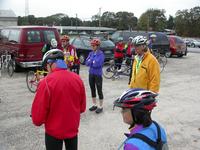 On the road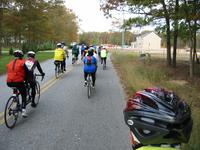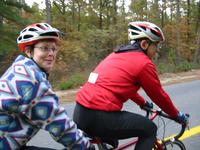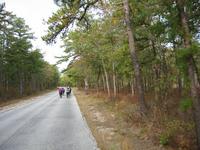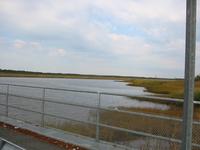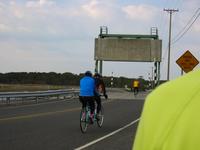 Batsto Village rest/snack stop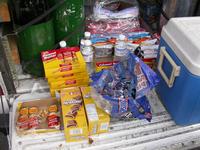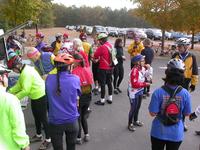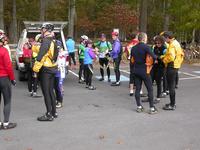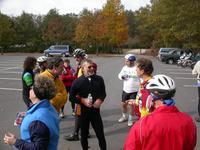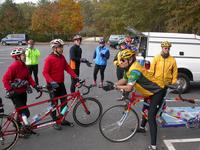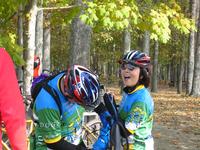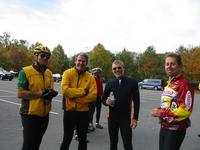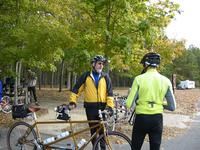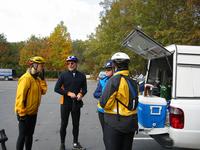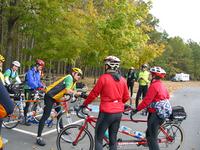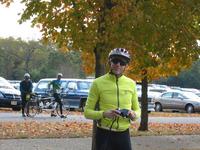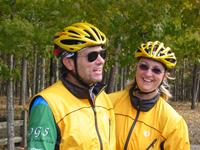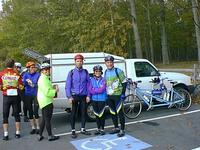 Time to start riding again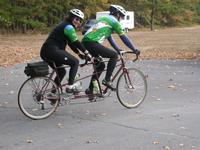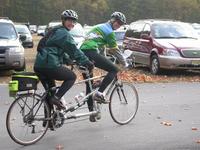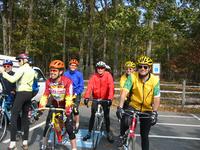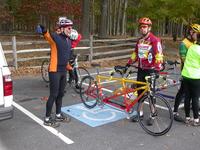 Back at the Acme parking lot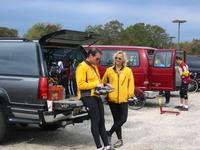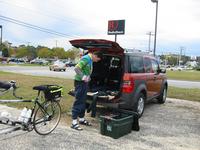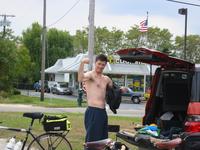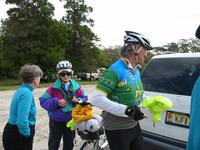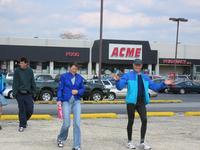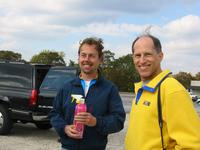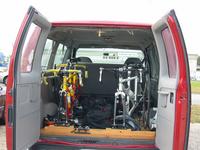 Lots of great pizza and soft drinks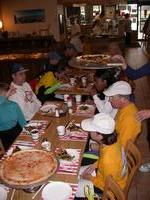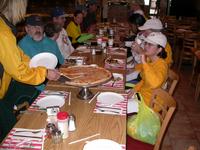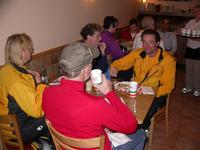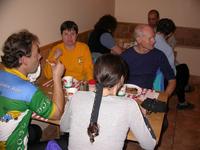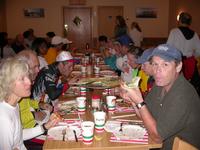 The latest cycling fashions?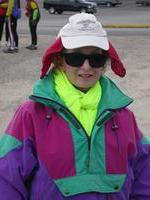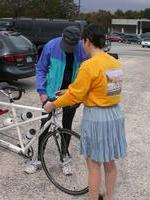 A unicycle tandem?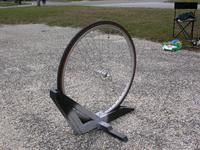 Trish has a business in Tuckerton?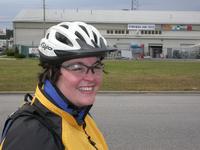 ---
---
Generated automagically on Tue Oct 21 18:28:59 US/Eastern 2003 from 031019.pho dated Tue Oct 21 18:28:57 US/Eastern 2003 by /home/dmk/perl/pho.pl, @(#)pho.pl 1.23.
Copyright © 2003, David M. Kristol (text, photos), Marjorie Brandriss (photos)