Swampy Jockey Jaunt
| | |
| --- | --- |
| Date | October 12, 2003 |
| Hosts | Team MaDDOGS (Marji Brandriss, Dave Kristol) and Team Road Raiders (Cheryl Prudhomme, Mark Cook) |
| Where | Loantaka Recreation Area; Morris County |
| Who (else) | Fran and Stan Chesler, Debbie and Alan Cudworth, Michelle Emerson and Dan Dodson, Linda and George Wells |
Gloomy weather forecasts all week ultimately yielded to pretty decent weather for a nice fall ride. Cloudy skies and moderate temperatures counteracted some of the pain of the hill climbing we encountered on the ride. And, when we finished, the clouds parted to produce warmth and sunshine for the after-ride eating.
Two relative novice teams joined the ride. The Cheslers, Fran and Stan, have had a tandem for a couple of years, but they've woefully neglected it, having ridden it only a few times. (They enjoy riding their semi-tandems.) Michelle Emerson and Dan Dodson just got their tandem in mid-summer. Both teams chose a tough ride for their initial DOGS ride, and both did just great!
The initial part of the route looked a lot like May's Great Swamp Hills and Mills ride. After nine miles, however, we diverged, heading west into the lightly traveled hills around Jockey Hollow and Mendham. Rolling terrain connected hills on Ledell and Talmadge Rds.
The nastiest of the hills was on Piccatinny Rd. We got there following a short downhill, leading to a right turn and an abrupt uphill. The road then leveled out, but only temporarily. We met one more fairly steep climb to reach the crest of the hill.
In fairness, the uphills also yield some good tandem-friendly screaming downhills, as well as great views of the surrounding countryside, where not a few maples and other trees are starting to catch fire in bright reds and golds. The final major downhill, on Bailey Hollow Rd., swoops around curves (mind the grates!) before, alas, ending at a stop sign on busy Rt. 202. (The Cheslers got a flat, rear of course, near the bottom, and we helped them fix their tire.)
Back at Loantaka, it was time to eat. Cheryl and Mark brought bagels, cold cuts, chips and dips, and drinks, including spiced apple cider. Marji and Dave brought home-baked cookies and (more) apple cider. We enjoyed the usual munching and chatting under the newly emerged sun, before heading home, satisfied, all, in a ride well done. Bravi to the new teams!
The obligatory group photo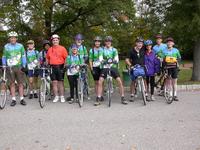 Turning onto Tempe Wick. Nice colors!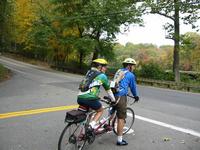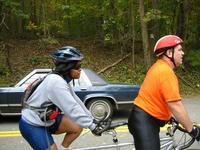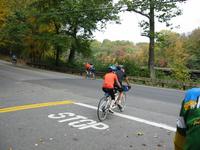 Pausing at Hilltop Church to regroup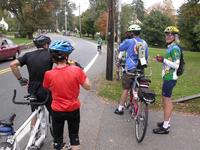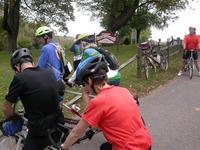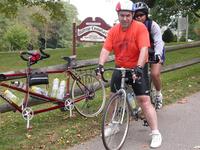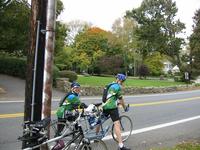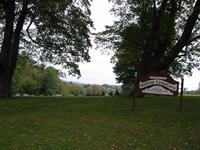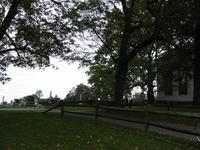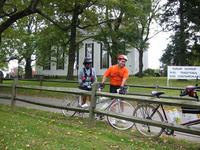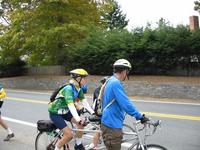 The break in Brookside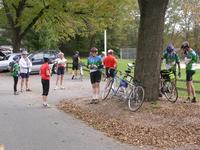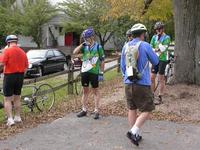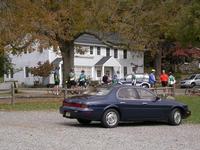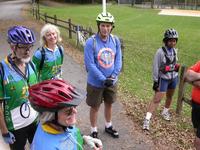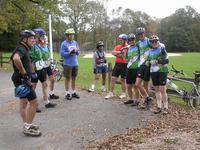 Hmmm. Not one of us!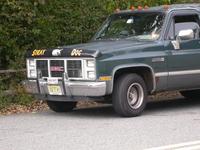 View from the top. We made it up Piccatinny!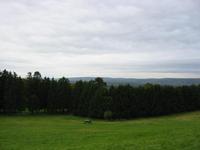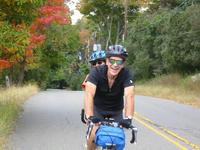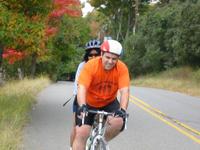 Let's eat!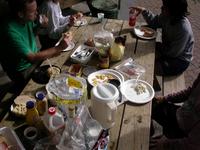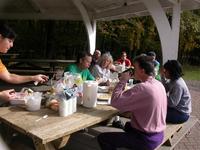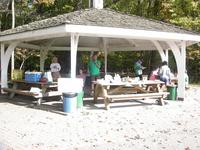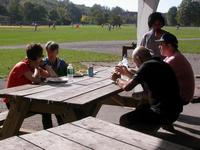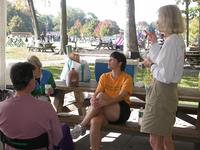 Stretchies!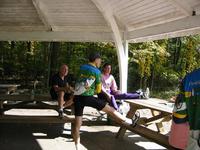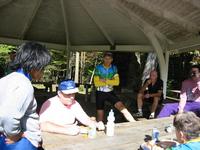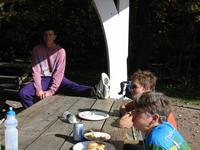 ---
---
Generated automagically on Sun Oct 12 23:09:43 US/Eastern 2003 from 031012.pho dated Sun Oct 12 23:09:34 US/Eastern 2003 by /home/dmk/perl/pho.pl, @(#)pho.pl 1.23.
Copyright © 2003, David M. Kristol (text, photos), Marjorie Brandriss (photos)