End of Vacation Ride (The Bridges of Somerset County)
| | |
| --- | --- |
| Date | August 23, 2003 |
| Hosts | Tricia and Ed Troike |
| Where | Duke Island Park, Bridgewater Twp. |
| Who (else) | Marji Brandriss and Dave Kristol, Christina Chan and Rich LeGrand, Van and George Connolly, Annemarie Cooke and Doug McCray, Debbie and Alan Cudworth, Ellen and Larry Garber, Claire Hamanaka and Walt Willard, Larry Isherwood, Connie Mertens and Don Engleke, Pam and John Ruggini (non-members), Teresa Seidler and Joe Rutch, Ann Smith (guest stoker) and Mark Cook |
Ahhhhhh! What a breath of fresh air! After weeks of dank, humid weather, a real cold front finally pushed into our area, bringing perhaps the best DOGS riding day of the season. And the Troikes earned it, having had several previously scheduled rides cancelled by bad weather. The morning truly sparkled, the temperatures remained moderate all day, and the low humidity made for really comfortable riding.
The DOGS assembled in imposing numbers at Duke Island Park for a nice 30-mile ride through the farm fields and suburbs of Somerset County, crossing, in the process, a large (and uncounted) number of bridges over branches of the Raritan River. (We were joined by the Rugginis who perhaps can be induced to join the DOGS once they see their name here. :-) As a warm-up, we rode the bike path around the perimeter of the park. We took a break and regrouped at the 20-mile mark outside the Neshanic Station General Store.
At the end of the ride we collected around the back of the Troikes' Honda Element for a tailgate party comprising delicious (and unusual) chips & salsas, bagels and fixin's, cookies, watermelon, carrot sticks, and drinks. Members Helen and Bob Bird dropped by; Helen's been having problems riding their tandem, so they were on single bikes and met us at the end of their ride.
The day was not without its unusual events. The Connollys suffered four (count 'em, four) flats before they could get very far into the ride. They finally had to change a tire and use a patched tube to get going. Meanwhile Don Engleke discovered a flat front tire while we were gathered at the General Store. And Walt and Claire got a flat shortly after leaving the General Store.
One scarier event appears to have resolved relatively benignly. Doug McCray fell ill on the return stretch from the General Store, and Annemarie was concerned enough that she called 911 for an ambulance. Connie Mertens and Ed Troike drove out to where they were to rescue their bike. Those of us at the park thought the problem might be heat-related, but his body temperature turned out to be okay, and he was released from the hospital by evening. Annemarie reports the problem was ultimately identified as dehydration and reminds everyone to remember to keep drinking as you ride.
Lots of DOGS!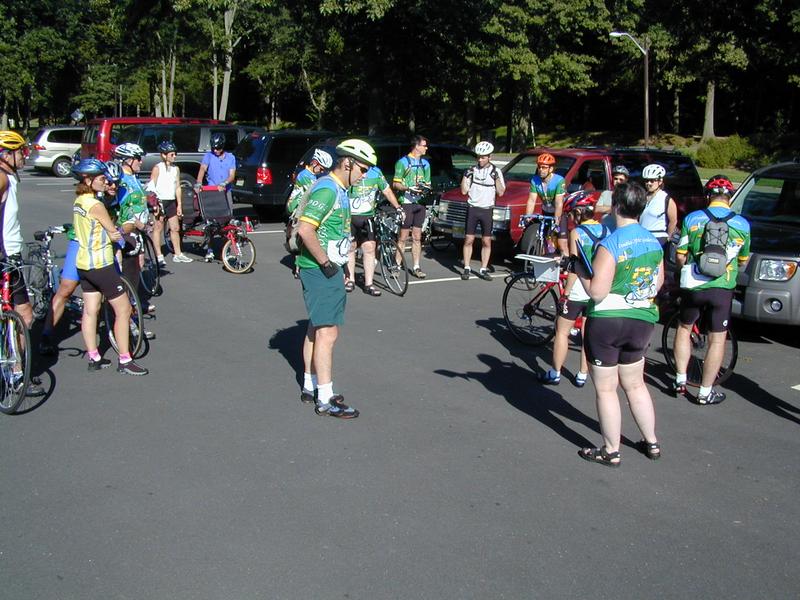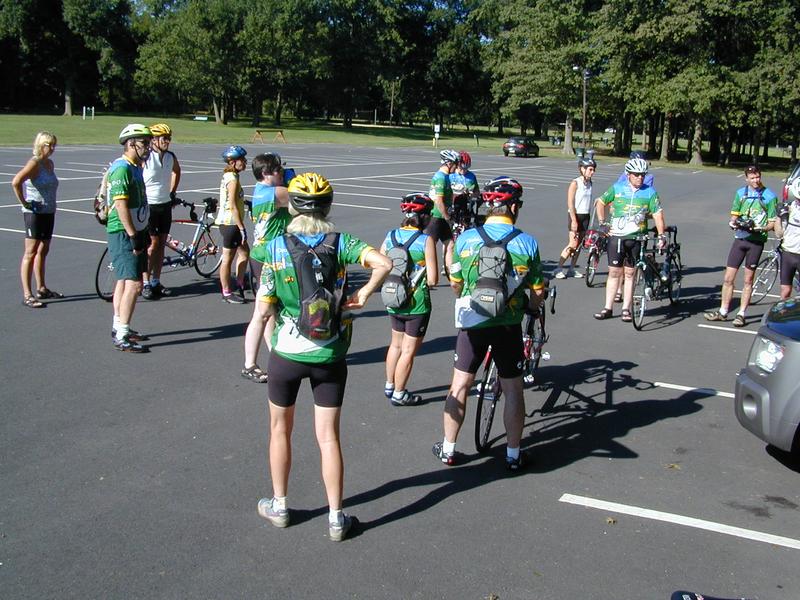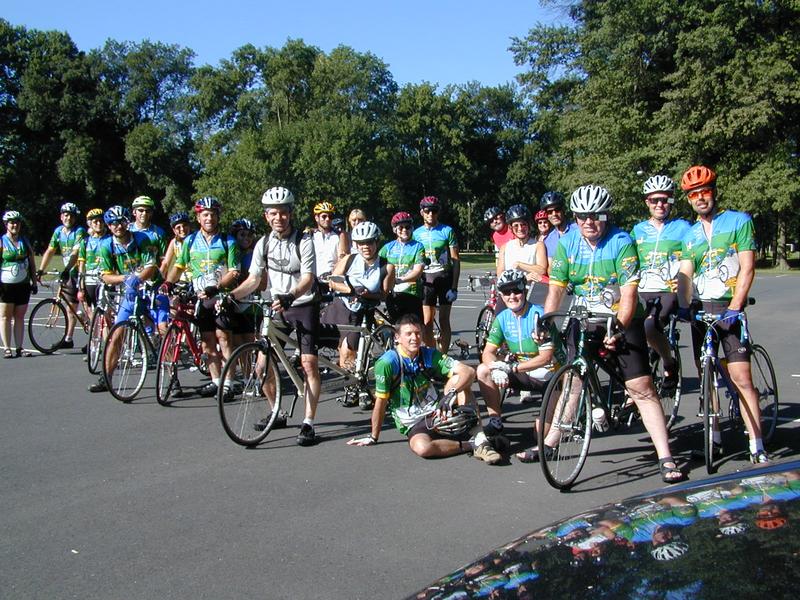 Outside Neshanic Station General Store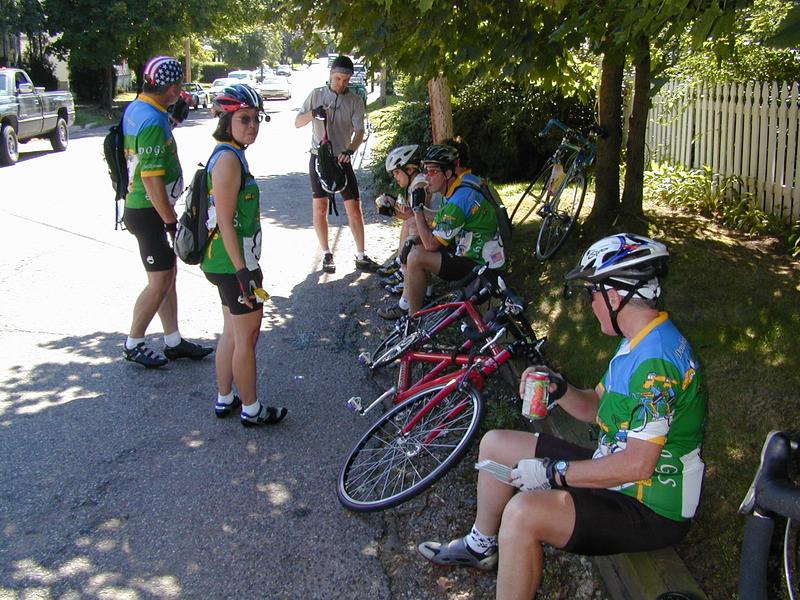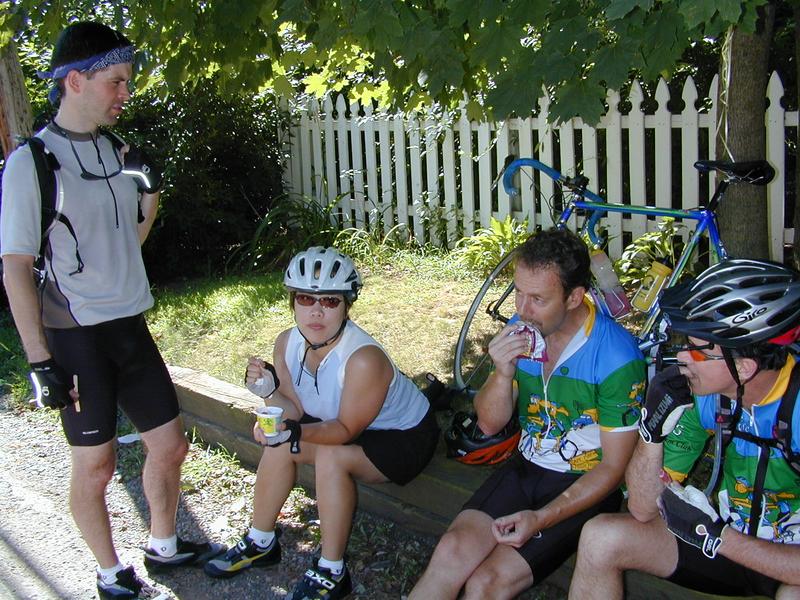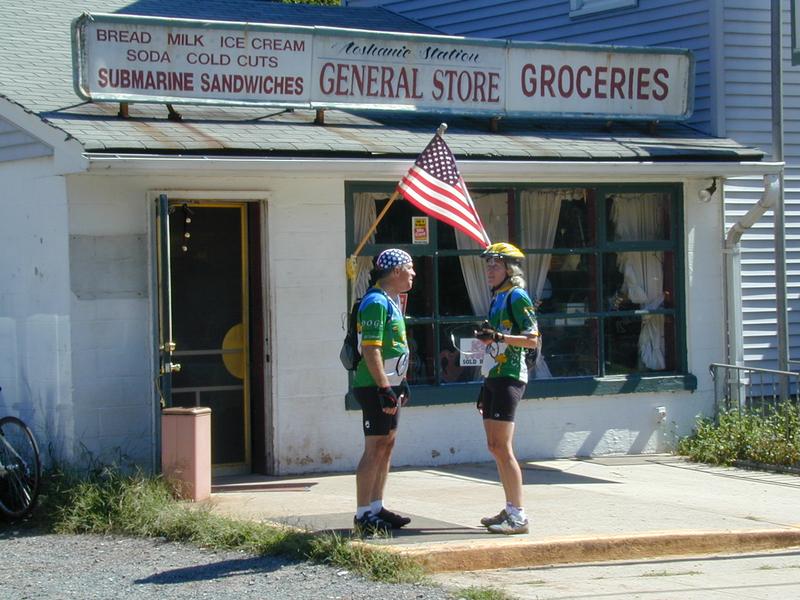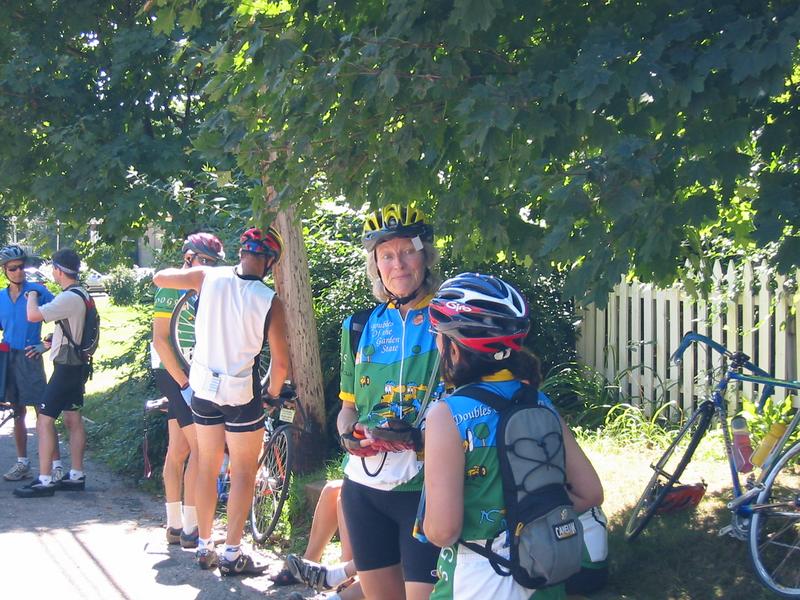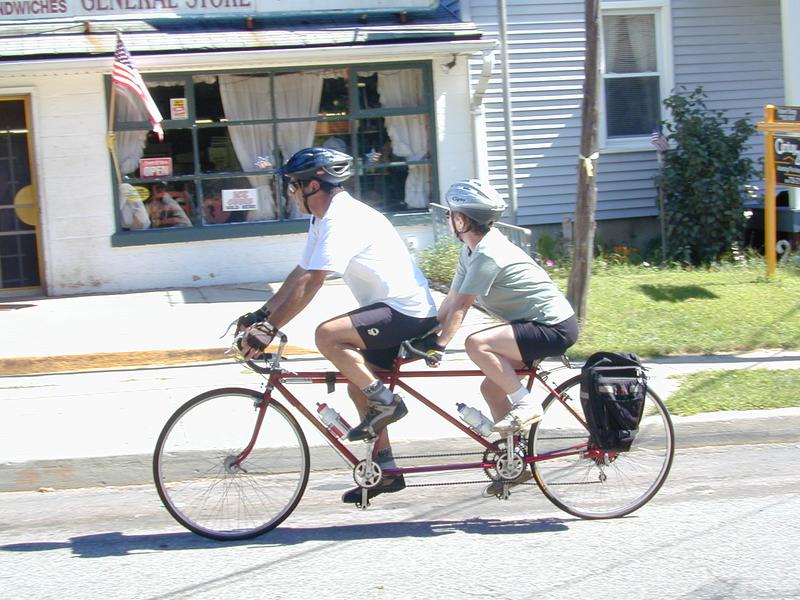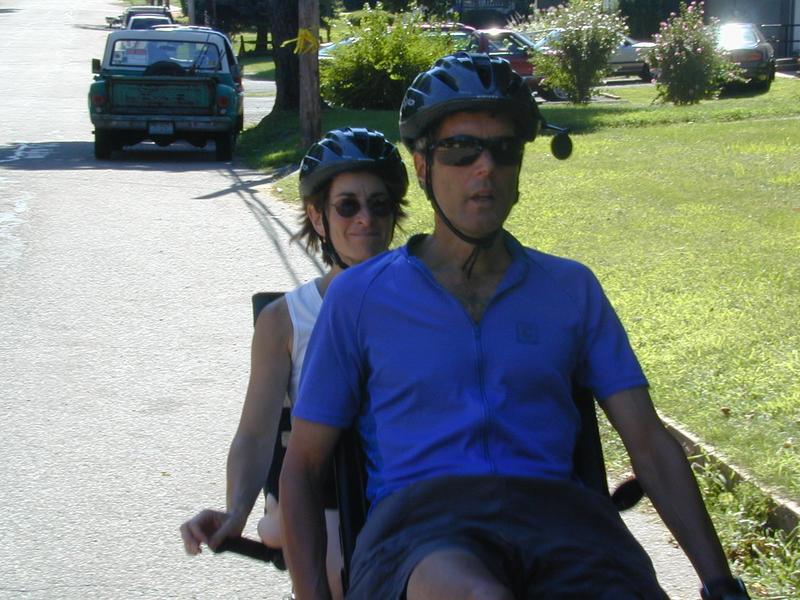 What's wrong with this bike?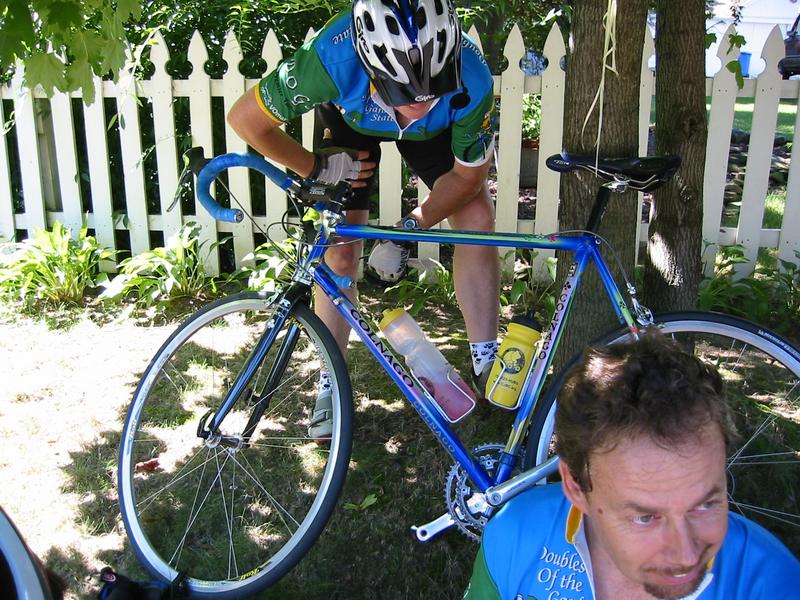 Nice scenery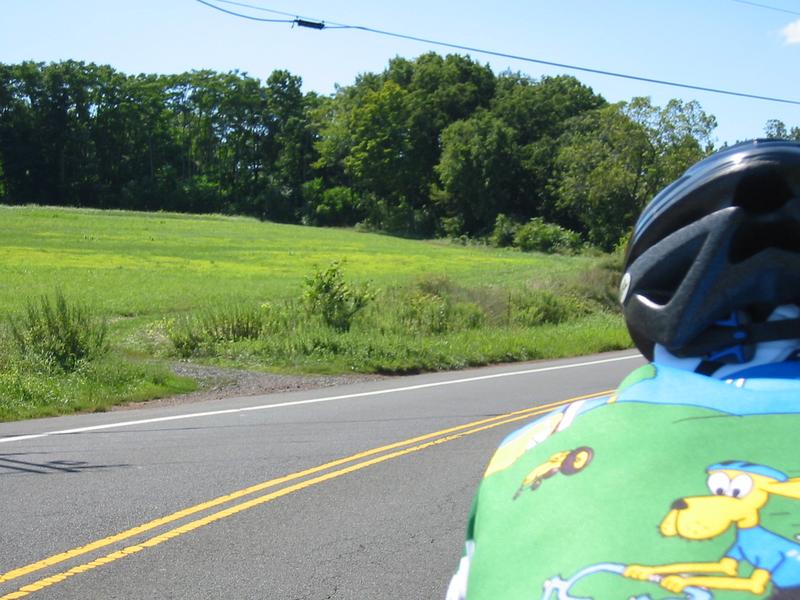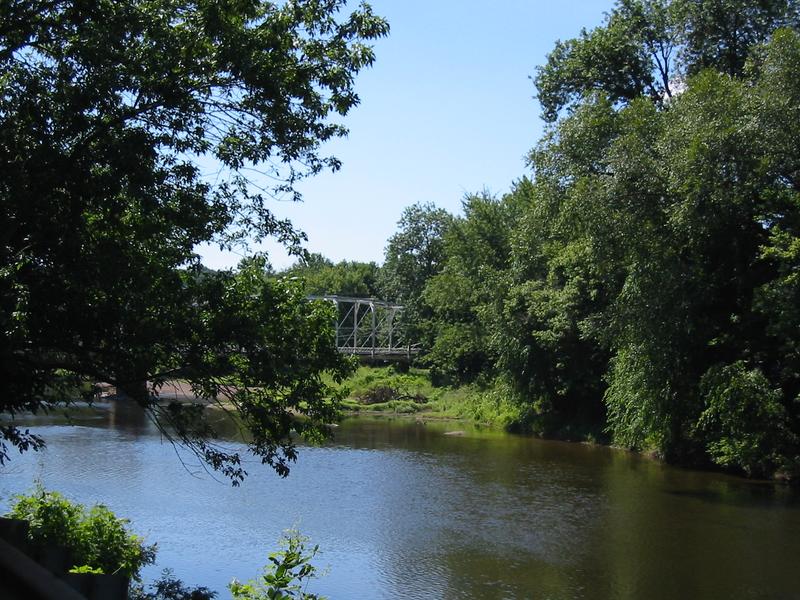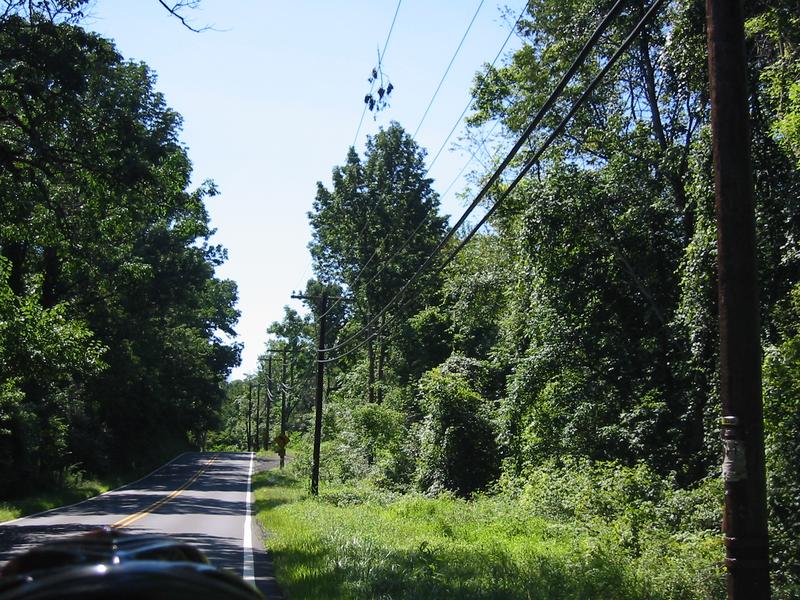 Riding's done. Let's eat!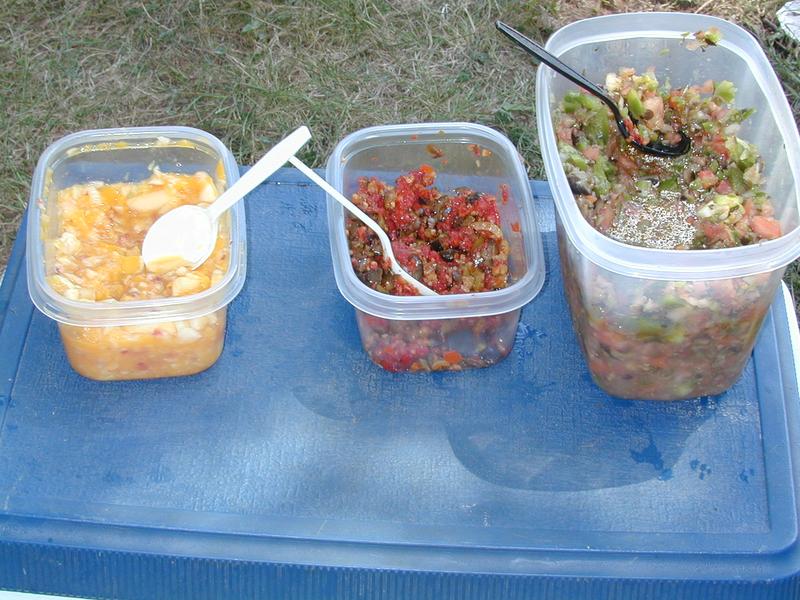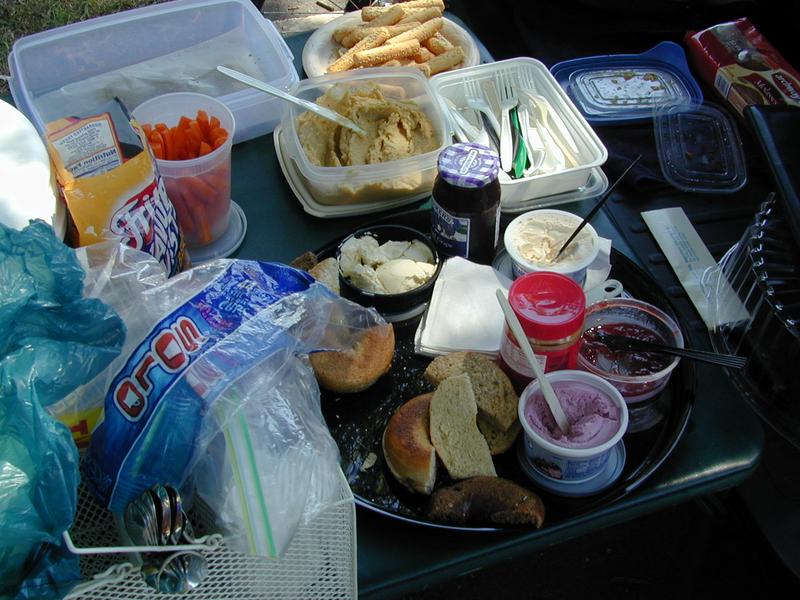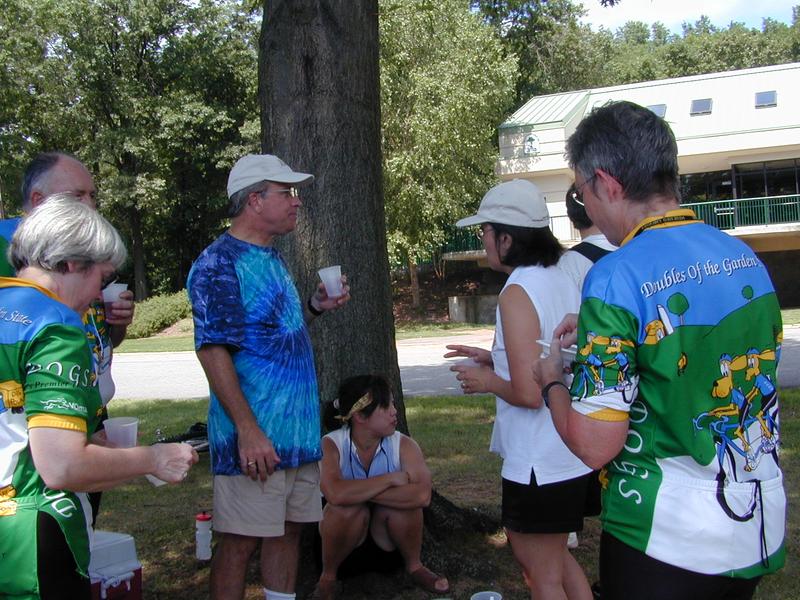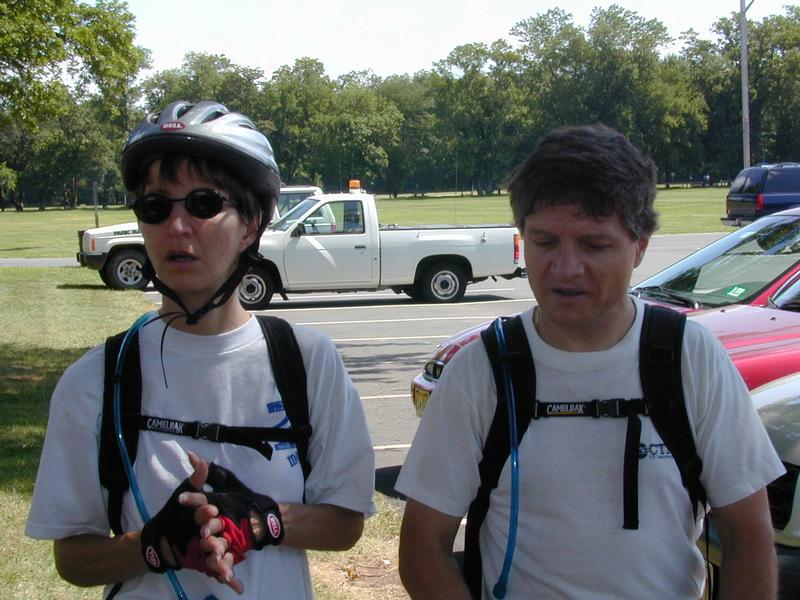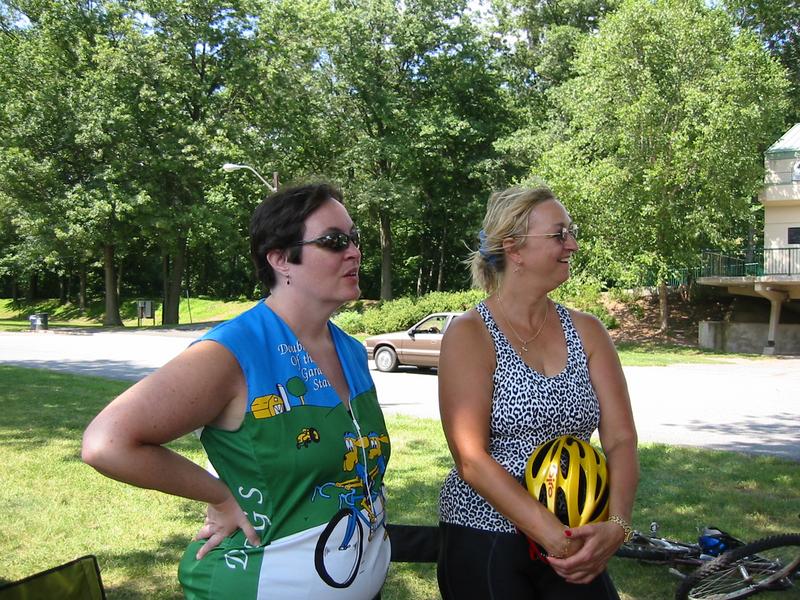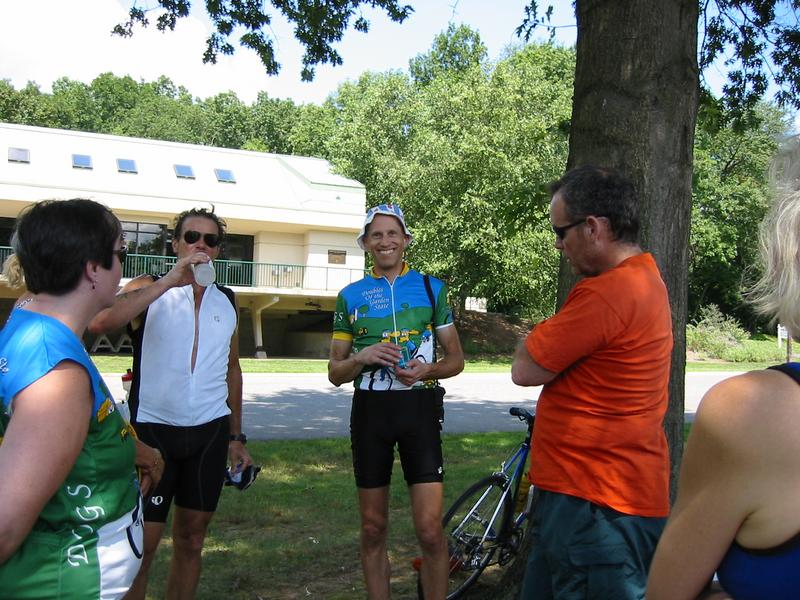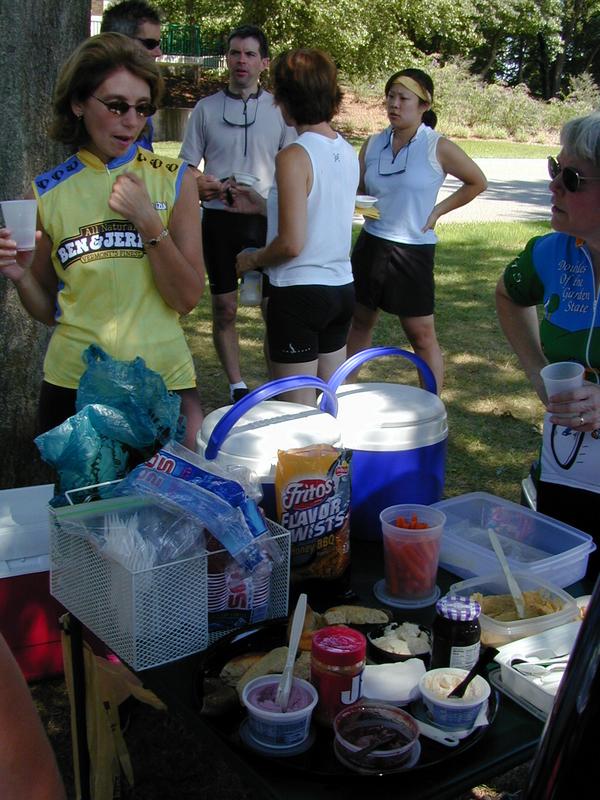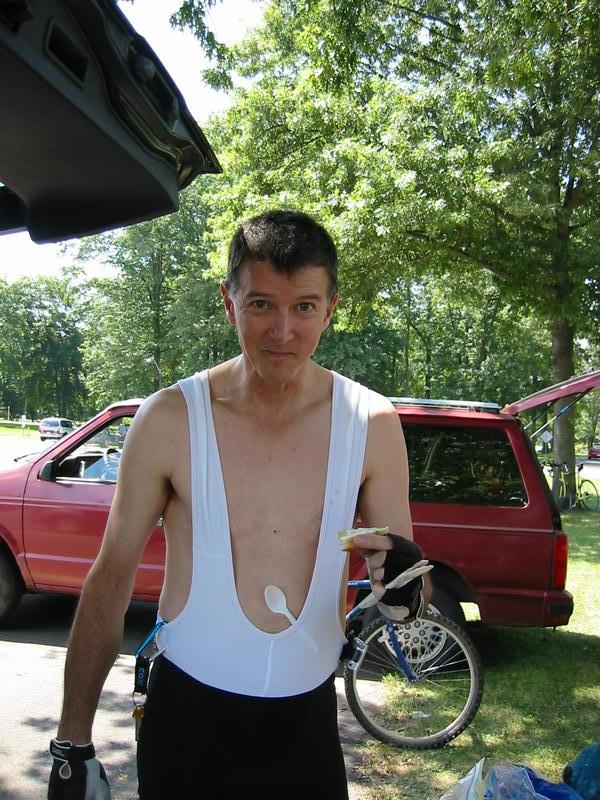 Geez, where's this piece fit?
Ed is really in his Element.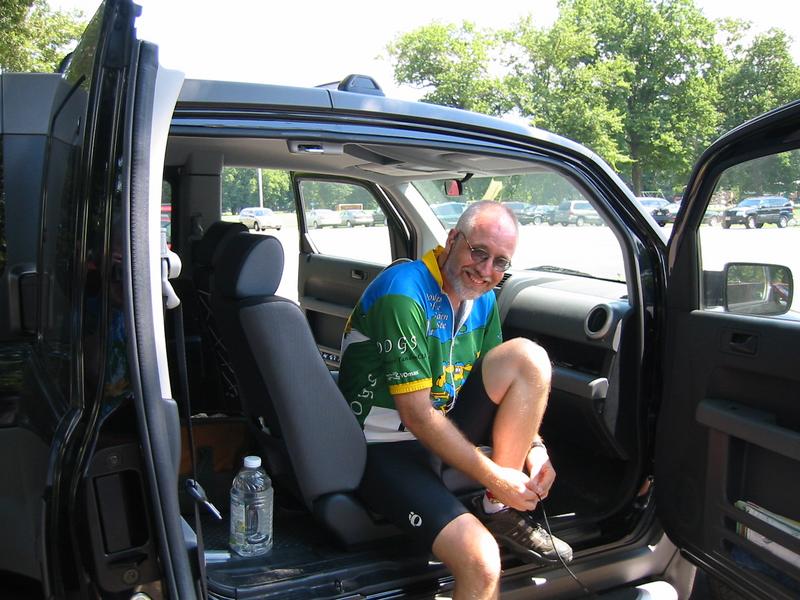 Packing up for home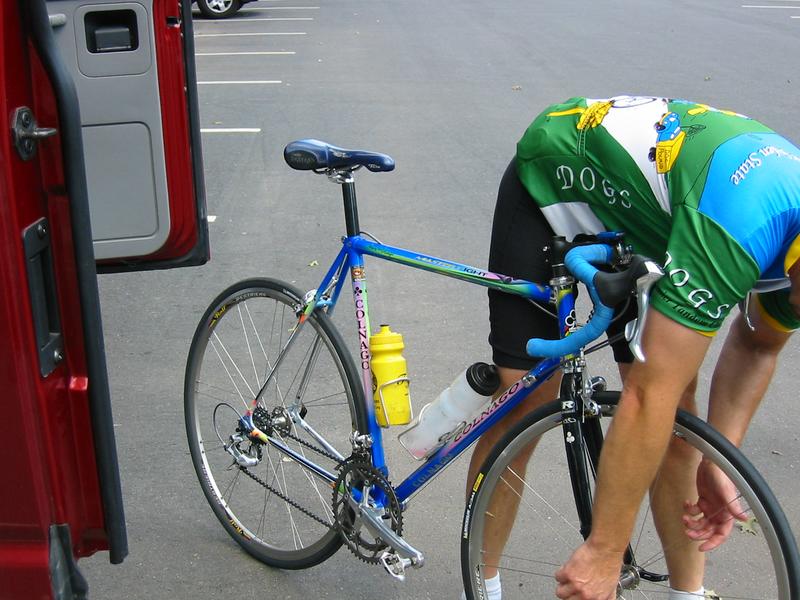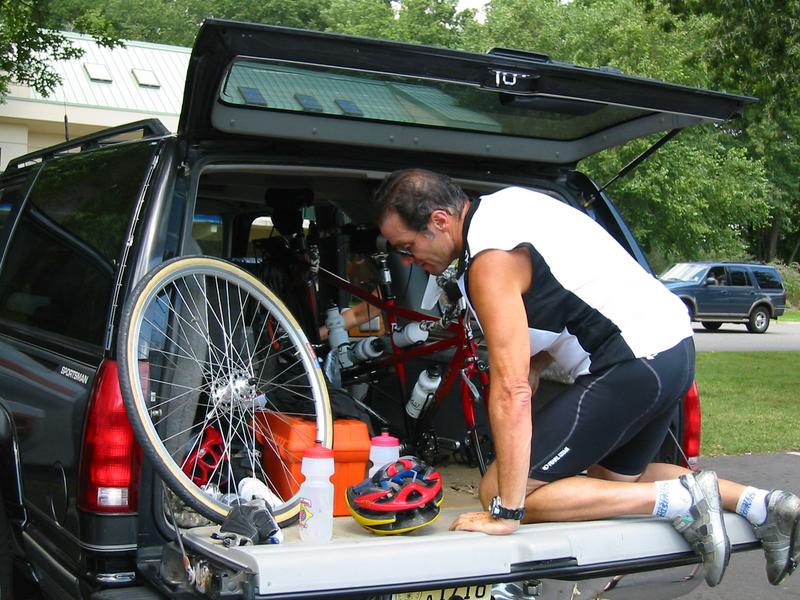 Ah, that feels better! Oh, no, that was lemonade!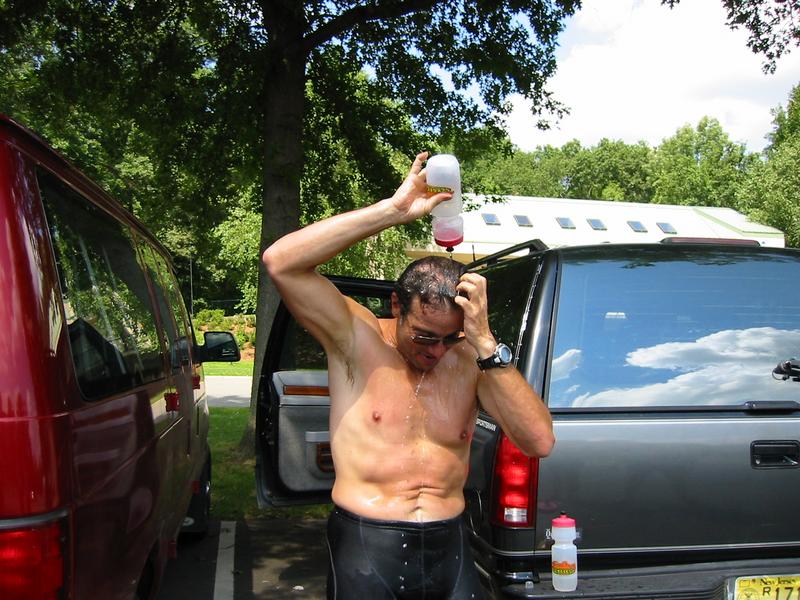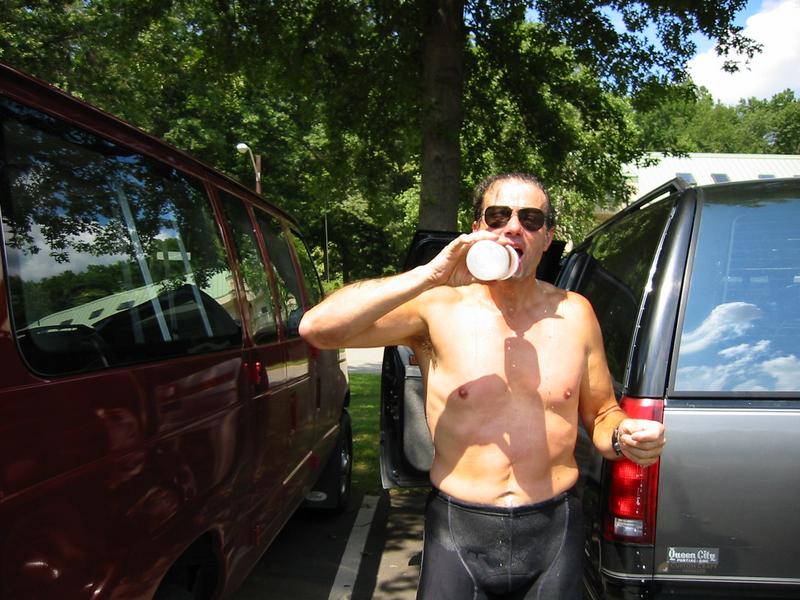 ---
---
Generated automagically on Thu Sep 18 14:07:29 US/Eastern 2003 from 030823.pho dated Thu Sep 18 14:07:26 US/Eastern 2003 by /home/dmk/perl/pho.pl, @(#)pho.pl 1.23.
Copyright © 2003, David M. Kristol (text, photos), Marjorie C. Brandriss (photos)