2003 Tandems East Tandem Expo
| | |
| --- | --- |
| Date | March 16, 2003 |
| Hosts | Barbara and Mel Kornbluh, Tandems East |
| Where | Pittsgrove Township Middle School, Rt. 540, Centerton, NJ |
| Who (else) | Mark Cook & Cheryl Prudhomme, Ed & Trish Troike, Dave Snope & Susan Nicolich, Larry & Brenda Isherwood -(photographer, commentator) |
When we started the ride at 10:40 there were 9 plus teams taking off.... There were some that left earlier and some later also.
There were at least 4 DOGS teams in this photo that I know of... Mark Cook & Cheryl Prudhomme Ed & Trish Trioke Dave Snope & Susan Nicolich Larry & (Brenda) Isherwood -(photographer) The temps on Saturday (we went down a day early to do a ride the area), were in the high 50's and the temps on Sunday were well into the 60's. It maybe even hit into the 70's, and, as you can see Dave, Susan and Larry had on shorts and short sleeves as I also did. The riding was excellent (there was little snow to be seen) and the socializing was wonderful too!!
Mel and Barbara and all their helpers put on a fun-filled event!
The ride begins...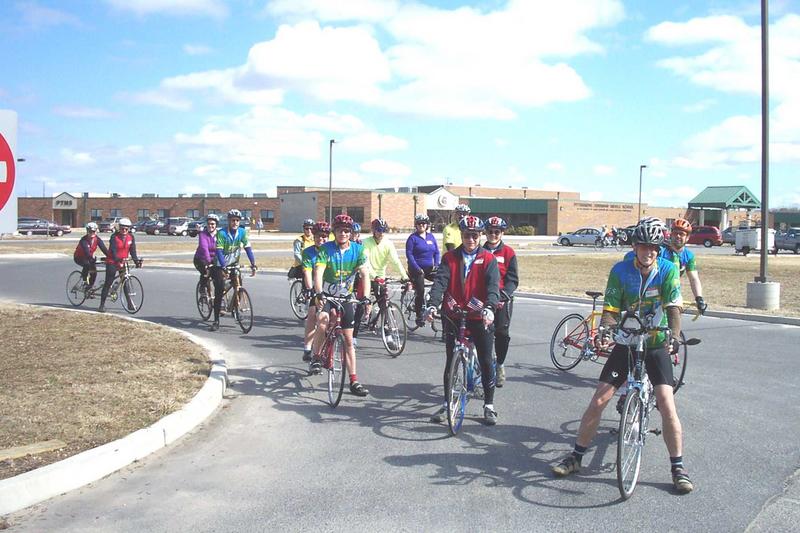 ---
---
Generated automagically on Mon Apr 14 17:07:54 US/Eastern 2003 from 030316.pho dated Mon Apr 14 17:04:39 US/Eastern 2003 by /home/dmk/perl/pho.pl, @(#)pho.pl 1.22.
Copyright © 2003, Brenda Isherwood