Not as Flat as a ... The Pancake Ride
| | |
| --- | --- |
| Date | February 2, 2003 |
| Hosts | Susan Nicolich and Dave Snope, Brenda and Larry Isherwood |
| Where | Califon Island Park, Hunterdon County |
| Who (else) | Marji Brandriss and Dave Kristol |
Okay, where were you? Yeah, it was a lousy January for riding, but today was good enough. The temperatures were in the comparatively balmy upper 30's to low 40's, with a frequently stiff wind, and the roads were mostly ice-free, though there was a fair amount of grit.
The DBLS DOGS (Dave, Brenda, Larry, Sue) and MaD DOGS (Marji and Dave) converged on the Califon Firehouse for their pancake breakfast at 9. Unlike previous occasions, there was a line to get into the firehouse, and we had to stand outside for awhile. Once inside, though, we got a table relatively quickly and got served. We also, of course, got an opportunity to warm up in preparation for the ride.
After eating, Brenda, Larry, Marji, and Dave adjourned to the Isherwood van and waited for Sue and Dave to get their bike from Sue's nearby house and ride to the park. Then, after the obligatory "we were here" picture, we set out.
All of us were feeling a bit out of condition, so the pace was mercifully moderate. By the top of Frog Hollow Rd., all of us were warmed up. The route had its familiar ups and downs, with a few more nasty hills after Larry declared, "Well, that was the last of the bad hills." We returned to the park in good shape and with no significant mechanical problems en route.
We then reconvened at Sue's house, a much more congenial place for a small gathering than the park under any circumstances, but especially on such a chilly day. Brenda's hot chocolate went nicely with Sue's molasses cookies and other munchies.
At the firehouse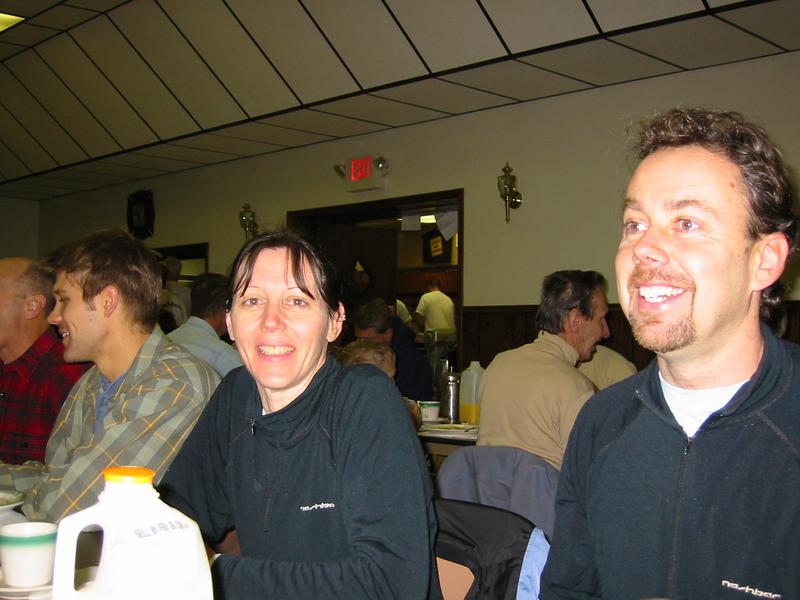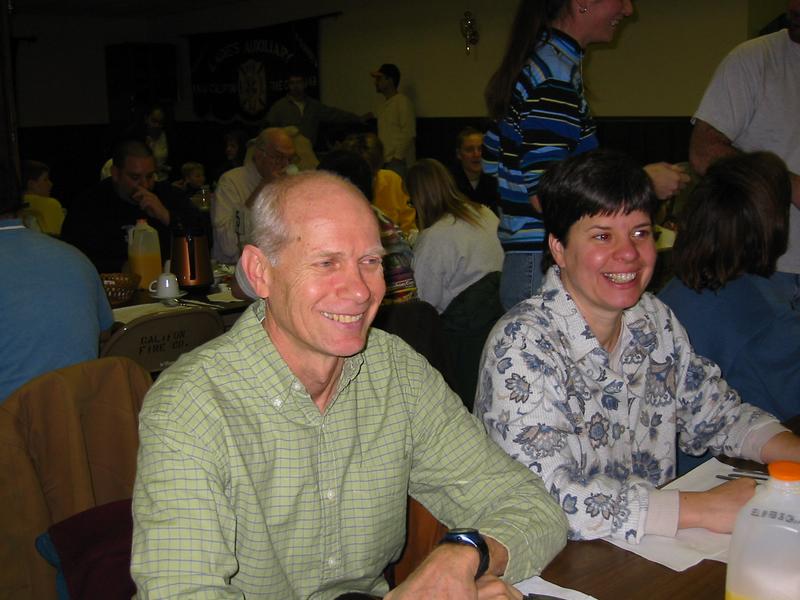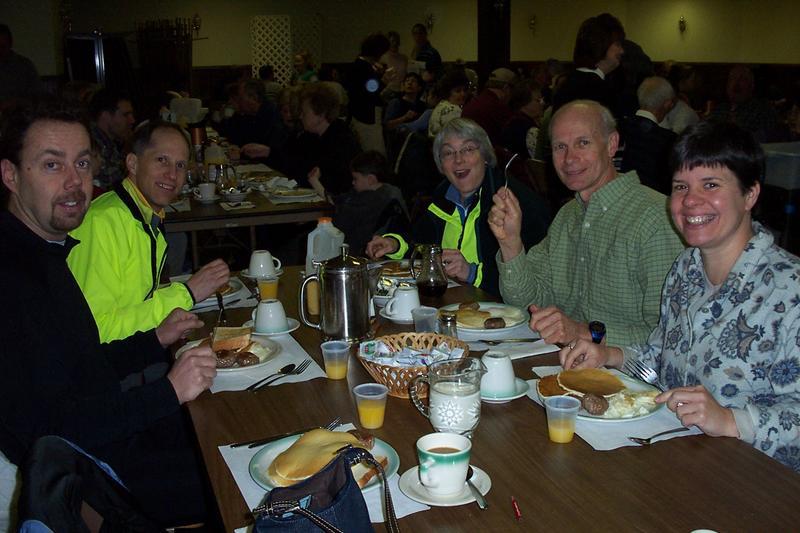 "Braid the raven hair, weave the supple tress."
(For Gilbert and Sullivan fans.)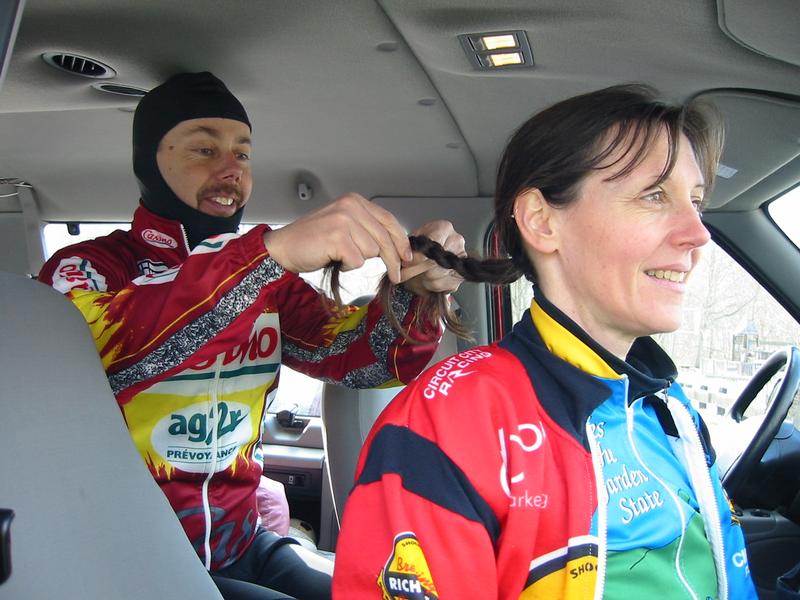 On the road, two by two.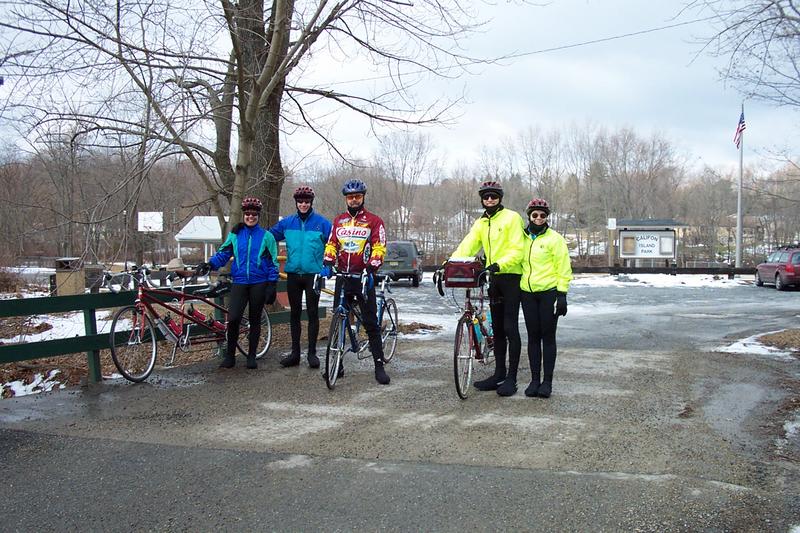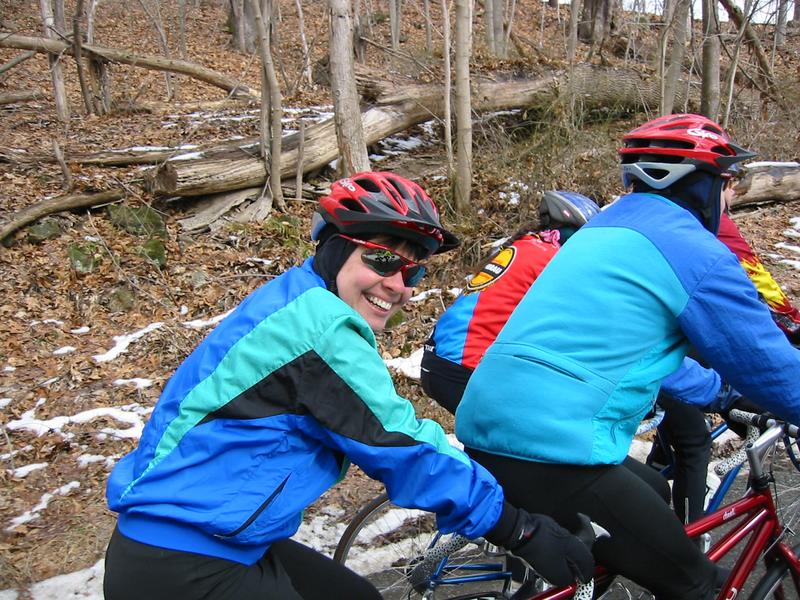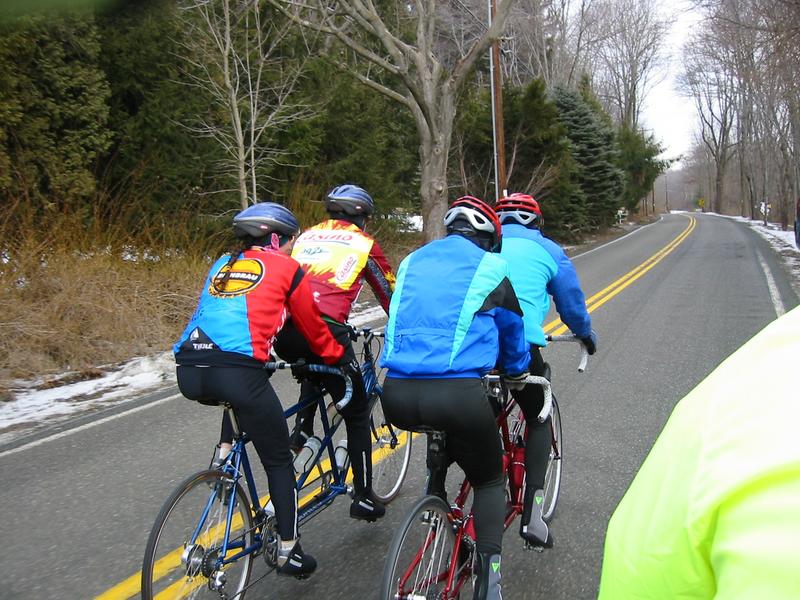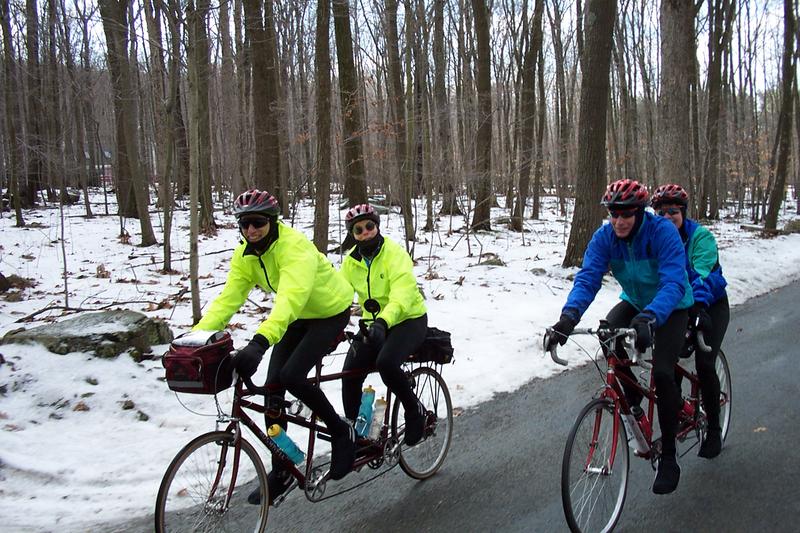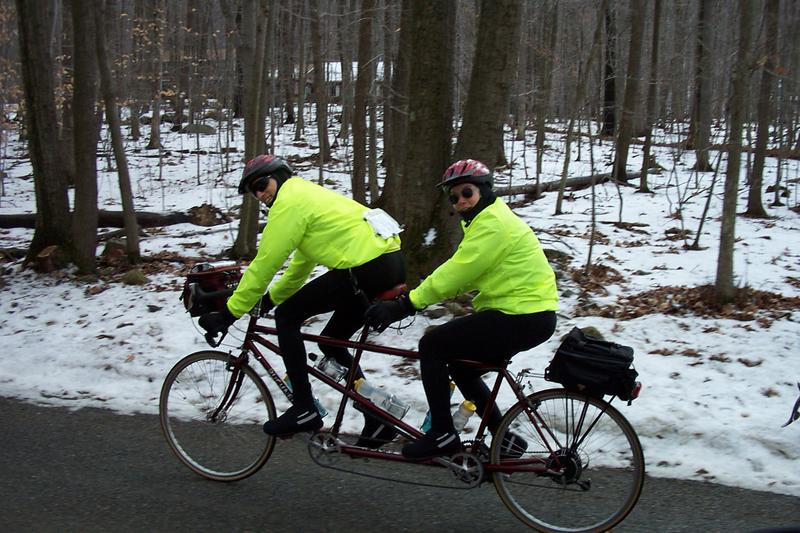 At Sue's house.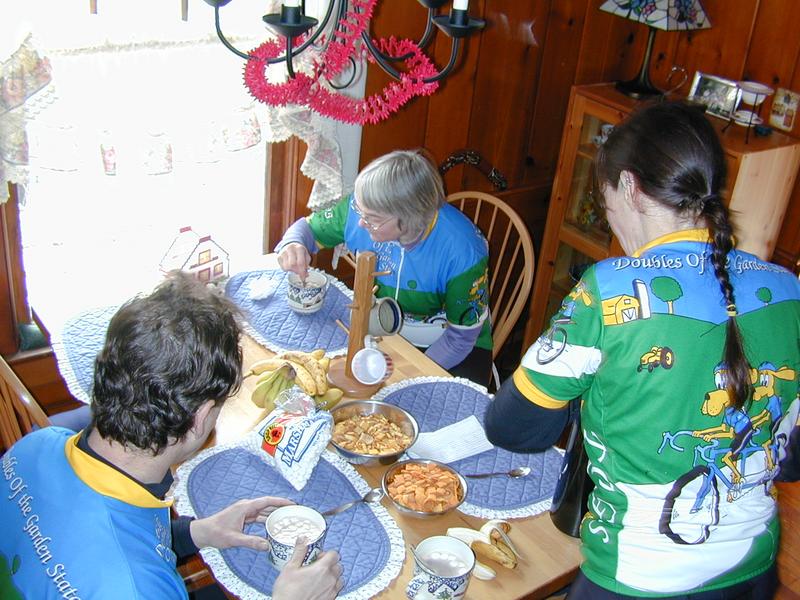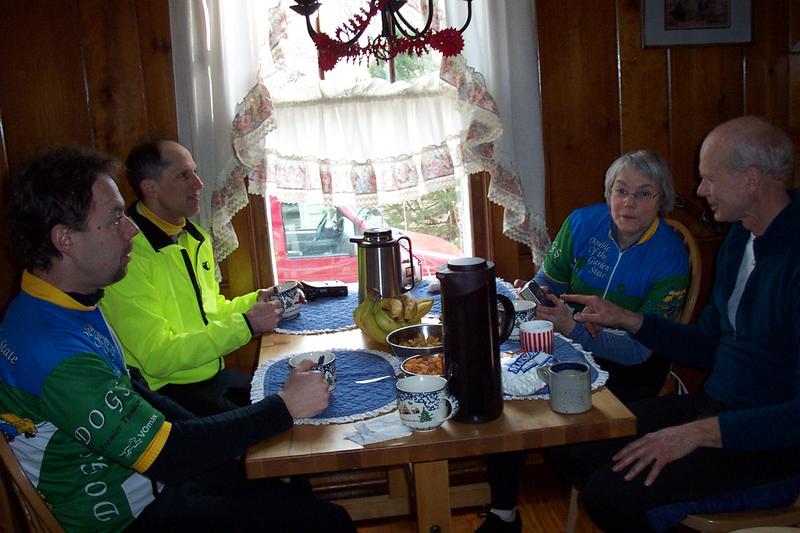 Euphoria (the cat, that is)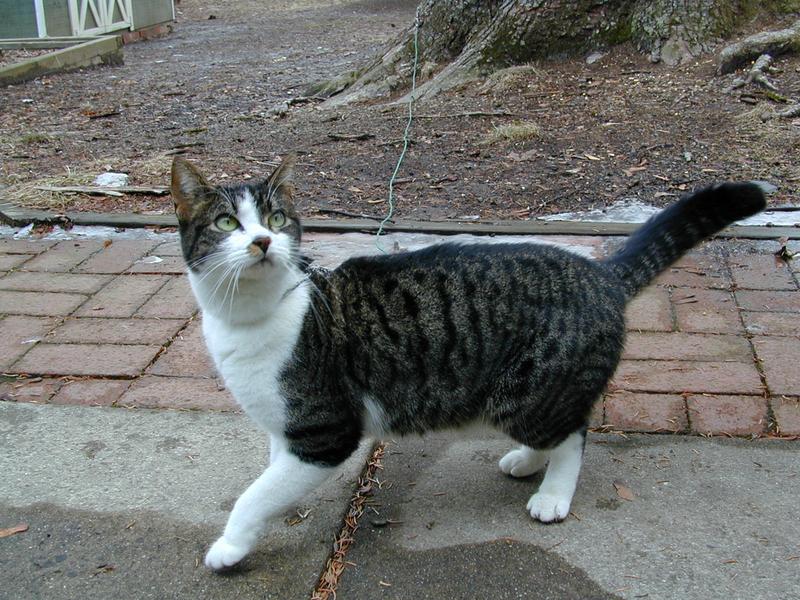 ---
---
Generated automagically on Mon Apr 14 17:07:54 US/Eastern 2003 from 030202.pho dated Mon Apr 14 17:04:43 US/Eastern 2003 by /home/dmk/perl/pho.pl, @(#)pho.pl 1.22.
Copyright © 2003, Marji Brandriss, Dave Kristol, Brenda Isherwood